Project Profile
Freedom's Path at Augusta
7,601,100
Local Tax Revenue Generated
39,546,000
Income Generated
Freedom's Path at Augusta is an affordable housing development for veterans located on the Charlie Norwood VA Medical Center Campus in Augusta, Georgia. Positioned near Army Base Fort Gordon in what's long been a military town, the new apartments help to fill a void for veteran housing in the area. The 78-unit, multifamily community offers quality studio and one-bedroom apartments to households earning at or below 50 percent and 60 percent of the Area Median Income (AMI). Freedom's Path residents have access to a number of resourceful amenities, including a neighborhood clubhouse, fitness center, media room and laundry facilities. Through use of the Low Income Housing Tax Credit (LIHTC), the new apartment community helps stimulate the local economy while also addressing Georgia's critical need for more affordable housing. Conveniently located minutes away from a variety of shops and services and just five miles from all the local eateries, storefronts and entertainment options that make up Downtown Augusta, Freedom's Path at Augusta brings a wealth of exciting opportunity to locals and the city alike.  
About Augusta
Augusta, Georgia's second-oldest and second-largest city, is known as the South's "Garden City," boasting some of the country's most breathtaking lakes and trails. Plucked straight from American history books, the town was originally colonized in 1736 by British General James Oglethorpe and was a key site of the Revolutionary and Civil Wars. A number of historically significant homes and buildings still line the streets of Augusta, fostering the quaint, southern charm-like character that permeates the town today. Army Base Fort Gordon sits southwest of the city and is a major contributor to Augusta's economy and culture. Nestled on the majestic shoreline of the Savannah River, Downtown Augusta boasts locally-owned shops and restaurants, historic attractions and one of a kind art galleries. On top of serving as the home of The Masters, the city hosts a variety of additional sporting events throughout the year, including the Ironman 70.3 Augusta Triathlon, the Augusta Futurity and the Augusta Southern Nationals, the "World's Richest Drag Boat Race."
Community Impact
Freedom's Path at Augusta brings quality homes to cost-burdened households, particularly those of veterans. By creating more affordable housing options, the local economy benefits through new jobs and tax revenues. Now that residents can save on rent costs, local purchasing power increases as well, allowing for an extra economic boost. The development's central location reveals new opportunity for tenants, bringing them closer to various employment options, reducing commute times and enabling quick and easy access to shops and services essential to everyday life. Freedom's Path at Augusta offers hope and stability to veterans by helping to alleviate financial hardships, forging a path for a brighter, less stressful future, as the name suggests.
About the Developer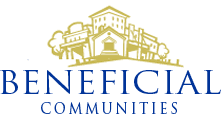 Beneficial Communities is a real estate development company that specializes in building veteran housing facilities and senior living centers. Founded in 2001 and located in Sarasota, Florida, Beneficial Communities develops multi-family properties throughout the United States. The company invests in market-rate housing as well as mission-driven, tax leveraged real estate projects for underserved populations in all types of locations – from rural to inner-city urban.
Address:
1900 Maryland Ave
Augusta, Georgia 30904