Developer, Holocene Clean Energy, commences construction of Twittys Creek Solar, LLC, a 14-megawatt-AC solar installation located in Charlotte County, Virginia
Cardinal Renewables, a strategic partnership between the global investment firm, The Carlyle Group, and Alchemy Renewable Energy, an industry leader in renewable energy projects and tax equity financing, has secured a power purchase agreement (PPA) with Direct Energy Business, one of North America's largest retail providers of electricity, natural gas, and home business energy-related services, through Twittys Creek Solar, LLC, supporting construction of its a 14 MWac solar power installation located in Charlotte County, Virginia.
Providing a lasting clean energy alternative to traditional fossil fuels, Twittys Creek reduces the amount of harmful carbon emissions released into the atmosphere. The new solar installation, developed by Holocene Clean Energy, is expected to be operational in December 2020.
A look at Logansport Solar and its unique benefits to the community
As years pass and seasons change, it's becoming clear that renewable resources not only are the future, but ultimately, they're the determining factor of what our future holds. The solar Investment Tax Credit (ITC) program plays an instrumental role in propelling the U.S. forward toward a brighter, more sustainable environment and economy. By developing clean power sources like solar farms, we have the opportunity to provide a better world to live in for generations to come. Alchemy Renewable Energy, a portfolio company of Monarch Private Capital, is committed to creating a more sustainable future by facilitating all stages of development and operations of solar farms across the U.S.
To fulfill this commitment, Alchemy partnered with Inovateus Solar on an 80-acre 16-megawatt-AC solar installation in Logansport, Indiana, by arranging the financing. As the city's first-ever solar power plant, it will replace the recently retired coal-fired power plant that the area has relied on for 132 years. This new solar installation will benefit the community and neighboring areas in a variety of ways, including reducing Logansport Municipal Utility's (LMU) carbon emissions, helping stabilize energy costs for LMU's customers, and even host a bee and butterfly habitat that will benefit agriculture in the surrounding areas.
Environmental Impact
Based on an estimated lifespan of 40 years, the project is projected to abate 689,558 MT CO2e, which is equivalent to:
88 billion smartphones charged
78 million gallons of gasoline consumed, and
149,000 passenger cars driven on the road for a year.
Social Impact
The positive impact doesn't stop there, however. Inovateus is further helping the community by designing a solar education program to engage schools in the Logansport Community School Corporation, and they are launching a college scholarship contest for naming the solar park. To help maintain the neighborhood around the solar park, Inovateus designed a 45-foot vegetation buffer around the solar array. The buffer will feature native Northern Indiana trees, plants, and more than 100 tulip trees donated by the community.
Bird & Pollinator-Friendly Solar Day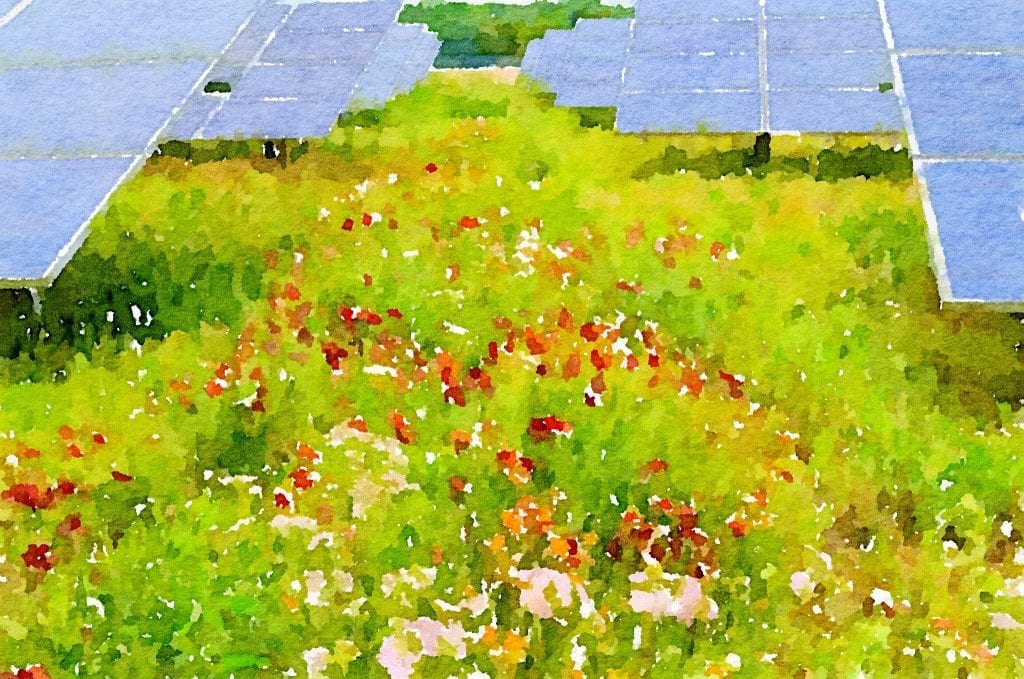 After construction is completed in the first quarter of 2021, Inovateus has partnered with Fresh Energy and the Bee & Butterfly Habitat Fund to plant a pollinator seed mix under and around the solar panels instead of traditional ground cover. Planting a pollinator mix will cultivate honeybees and butterflies that local farmers rely on for pollinating their crops. The National Renewable Energy Laboratory's InSPIRE study is actively studying pollinator-friendly and low-impact solar development approaches to quantify the ecosystem and agricultural benefits. To commemorate the pollinator-friendly ground cover that will eventually be planted under the solar array, The City of Logansport will recognize June 26th as Bird & Pollinator-Friendly Solar Day.
The benefits of solar energy are extensive, positively impacting communities environmentally, socially and economically. Clean energy will create a better future, and it is crucial that we pave a better road ahead so that today's youth can be strong, healthy and effective voices of tomorrow.
About the Developer
Inovateus Solar is a leading solar and energy storage development, EPC (engineering, procurement, and construction) and supply company in the Midwest United States. Headquartered in South Bend, Indiana, the company has 453 MW of utility, commercial, industrial, and education sector solar PV projects built and under development in the U.S. and the Caribbean. With strong roots in the communities it serves, Inovateus is passionately committed to investing in the energy future of clients through the wide-scale deployment of solar and clean energy technologies.
Carlyle's 2020 Impact Report
Electricity generation is one of the largest sources of global greenhouse gas emissions, accounting for approximately 28% of U.S. emissions alone – almost two-thirds of our electricity comes from burning fossil fuels. As renewable energy costs continue to fall, regulations tighten, and the energy transition accelerates, however, there is a large and growing investment opportunity in building the renewable energy capacity required to power a lower-carbon US electricity grid.
In 2019 Carlyle's Renewable and Sustainable Energy Platform led a $100 million commitment to partner with Alchemy Renewable Energy on a newly-established company, Cardinal Renewables, to develop, acquire, finance and operate solar power generation projects throughout the United States – including a dozen operating assets and a pipeline of development projects.
Partnering with Carlyle's best in class Renewable and Sustainable Energy team opens distinctive opportunities to drive forward the energy transition. Our combined deep market expertise and Carlyle's long-standing relationships with corporations and utilities will be instrumental in enhancing project, and economic, value creation.

Lacie Clark, CEO of Alchemy Renewable Energy
PV MAGAZINE, JEAN HAGGERTY
Renewable energy industry officials are hopeful that a post-pandemic comeback is possible in 2021, but much will depend on whether the Covid-19 disruption is short lived and on how future pandemic-related legislative activity pans out.
One thing that's already clear is that the potential for supply chain difficulties cannot be ignored, particularly if there is a post-pandemic surge in demand.
"Supply chain issues haven't played out yet," said George Strobel, co-founder and co-CEO of Monarch Capital.
A lot of the materials for projects planned for this year were ordered in 2019. However, in a worrying sign, the virus has forced solar manufacturer SunPower to idle its factories and cut its workforces. Additionally, industry officials are already reporting project delays, and that projects are missing developmental milestones due to state and local permitting delays, having to work projects with smaller crews and difficulties related to traveling to sites, among other issues.
Read the full article here.
ATLANTA — Monarch Private Capital (MPC), a nationally recognized tax-advantaged investment firm that develops, finances, and manages a diversified portfolio of projects that generate federal and state tax credits, including ESG investment opportunities that provide a quantifiable impact, is pleased to announce their membership in the American Council on Renewable Energy (ACORE).
ACORE, founded in 2001, unites finance, policy and technology to accelerate the transition to a renewable energy economy. The organization is a focal point for collaborative advocacy across the renewable energy sector, supported by members spanning renewable energy technologies and constituencies, including developers, manufacturers, top financial institutions, major corporate renewable energy buyers, grid technology providers, utilities, professional service firms, academic institutions and allied nonprofit groups.
MPC will be participating in ACORE's Partnership for Renewable Energy Finance (PREF) executive program. As the nation's most important and credible resource on renewable energy finance, PREF educates federal and state officials on market developments, sector finance trends and the impacts of key policies. MPC joins companies like Amazon, Google and GE with similar goals of expanding the deployment of clean power and positively impacting communities.
"Our membership with ACORE will open up new opportunities in the energy sector for MPC to share its expertise," said Lacie Clark, Managing Director of MPC and Chief Executive Officer of Alchemy Renewable Energy, a portfolio company of MPC. "By accessing ACORE's exclusive events and strategic working groups, we will continue to drive forward the energy transition that is sweeping the globe."
George L. Strobel II, Co-Founder and Managing Director of Credit Placement, will represent MPC on ACORE'S Leadership Council, an exclusive group of senior executives from across the renewable energy sector.
"Currently, many rating agencies are more inward-looking and focused exclusively on internal activities," said Strobel. "As a result, these agencies ignore a company's positive environmental impact on its local community and the world at large. ACORE shares the same interest with MPC in this regard as they continue to seek improvements to ESG analysis and scoring."
MPC's Jay Sinsley, Director of Investor Relations & National Tax Credit Investments, will engage with ACORE's ESG Working Group with the objective of bringing greater integrity, consistency and transparency to ESG scoring so that it better reflects renewable energy use and investment.
"Working alongside the PREF companies, who have an interest in promoting the inclusion of newly generated renewable energy in ESG indices, will directly benefit our company's ESG initiative," said Sinsley. "This results in a far more accurate representation of a companies' positive impact on the environment through renewable energy investment."
For more information on MPC's programs and services, please contact George L. Strobel II by emailing gstrobel@monarchprivate.com.
About Monarch Private Capital
Monarch Private Capital positively impacts communities by investing in tax credit supported industries. The company is a nationally recognized tax equity investor providing innovative capital solutions for affordable housing, historic rehabilitations, renewable energy, film, and other qualified projects. Monarch has long term relationships with institutional and individual investors, developers, and lenders that participate in these types of federal and state programs. Investors look to Monarch to create, operate, and manage a variety of different funds, including investment opportunities that address ESG initiatives that provide a quantifiable impact. Headquartered in Atlanta, Monarch has offices and tax credit professionals located throughout the U.S.
New Company to Develop, Finance, Acquire, and Operate Renewable Power Generation Projects in the U.S.
"Washington, DC and Springfield, MO – Global investment firm The Carlyle Group (NASDAQ: CG) and renewable energy company Alchemy Renewable Energy today announced that Carlyle, through its newly-established affiliate Cardinal Renewables, has made a $100 million commitment to partner with Alchemy to develop, acquire, finance and operate solar power generation projects throughout the United States.
Founded in 2016, Alchemy provides an innovative full-scope approach to development and tax equity solutions for renewable power generation projects. The Company leverages the expertise and network of its parent company, Monarch Private Capital, which has placed over $1.5 billion of tax credits since 2005. Alchemy will provide asset management services, place tax equity financing, and manage all operations and maintenance services for the renewable power generation projects acquired by Cardinal Renewables."
Click to read the full release.

Atlanta, May 29, 2019 – Alchemy Renewable Energy (ARE), a high growth portfolio company of Monarch Private Capital that owns and operates renewable energy facilities, today announced the commercial operation of the 3.5 MWac Ephrata Solar photovoltaic project, located in Lancaster County, Pennsylvania. In 2017 the Borough of Ephrata selected TurningPoint Energy as the project developer.  TurningPoint Energy fully developed the project and partnered with DEPCOM Power for engineering, procurement, construction and financing services. The Ephrata Solar project is the second collaboration between Monarch Private Capital, DEPCOM Power and TurningPoint Energy working with a distribution utility.
"We are very excited about Ephrata Solar and the impact it will have on the local community," said Lacie Clark, CEO of Alchemy Renewable Energy. "By offering an innovative approach to solar development with such notable partners as DEPCOM Power and TurningPoint Energy, we can continue to fulfill our mission to help create clean power."

The project has a long-term Power Purchase Agreement with the Borough of Ephrata. It will generate enough clean electricity to help the Borough of Ephrata power more than 670 homes and remove 3,700 tons of carbon emissions, which is the equivalent of taking 448 cars off the road for one year or planting 3,109 trees.
"We are excited to bring this project online. The cost of the energy when combined with the behind the meter benefits will serve the residents of the Borough by offsetting the ever-increasing transmission and capacity costs for the next twenty-five years," said D. Robert Thompson, Ephrata Borough Manager.

"We are thankful for the opportunity to partner with and perform on our commitments with the Borough of Ephrata, on this solar project with DEPCOM Power and Monarch Private Capital," said Jared Schoch, President, TurningPoint Energy. "We value these partners, and look forward to continued collaboration and investments in our utility clients and their communities."

DEPCOM Power provided engineering, procurement and construction for the project and will also deliver operations and maintenance services.
"DEPCOM is proud to be a partner in Pennsylvania's clean, solar energy future. In keeping with our commitment as a partner in the local community, DEPCOM has also made several charitable donations to local outreach organizations including the Milagro House and the Opportunity House on behalf of this great community solar project," said John Bruzza, Project Manager, DEPCOM Power.
A project dedication event is taking place at the project site located at 15 Springhouse Road in Ephrata, Pennsylvania, today, May 29, 2019.
About Alchemy Renewable Energy
Alchemy Renewable Energy is an industry leader in renewable energy projects as well as comprehensive long-term debt and tax equity financing. We utilize our credentialed team, a strong network of joint ventures, and parent company Monarch Private Capital to support premium mid-size utility-scale renewable energy projects, including solar and biomass power generation. We reduce overall project costs and produce higher overall investor returns by eliminating the need to source third-party development and financing support.
About the Borough of Ephrata.
The Borough of Ephrata was incorporated as a Borough in 1891.  In origins began in 1732 as a community seeking religious freedom.  Today the Borough is 3.5 square miles and has 13,300 residents.  It has 16 public parks and 133 acres of outdoor recreation that includes the Cocalico Creek and the very popular Warwick to Ephrata Rail Trail.  In 1924 Ephrata began generating electricity until 1965.  It continues to operate the electric system within the borough limits providing electricity to our residents and offering hometown service.
About TurningPoint Energy
TurningPoint Energy is a clean energy development, advisory and investment company with solar development projects under way throughout the U.S.  Its principals have experience developing solar projects for utility and community solar clients totaling more than $2.5 billion in value over 1.1GW of operating solar power plants throughout the United States within the last decade. TurningPoint Energy is a lean privately held firm that adapts to its clients' needs and finds ways to invest in its clients and their communities…at every turning point.
About DEPCOM Power
DEPCOM Power is a partner in utility-scale solar for: Project Development Support, Engineering, Procurement & Construction and Operations & Maintenance services for utilities, independent power producers and project development companies. DEPCOM Power leverages a highly experienced solar team, technology and agnostic top-tier solar modules, and cost-effective balance of system components to provide optimum levels of agility, price and quality for utility-scale solar.
Media Contact:
Jane Rafeedie
Monarch Private Capital
jrafeedie@monarch2019.atdcloud.com
470-283-8431
Solar Power World article by Billy Ludt
Southern Sky Renewable Energy RI and the City of Warwick flipped the switch on the city's second solar array. The array on West Shore Road hosts 2,628 panels producing 1 MW of electricity.
Monarch Private Capital is proud to have invested in this portfolio of renewable energy projects. Read the full article.
The city becomes the 27th in the U.S. to pledge to go totally green.
By Chris D'Angelo
WASHINGTON — Atlanta lawmakers approved a measure on Monday aimed at powering the city entirely on renewable energy sources, including solar and wind, by 2035.
A resolution introduced by city council member Kwanza Hall and unanimously approved commits city government to develop a plan for transitioning all of its buildings to clean electricity sources by 2025, and for the entire city to go green a decade later.
"We know that moving to clean energy will create good jobs, clean up our air and water and lower our residents' utility bills," Hall, who's also a Democratic candidate for mayor, said in a statement. "We never thought we'd be away from landline phones or desktop computers, but today we carry our smart phones around and they're more powerful than anything we used to have. We have to set an ambitious goal or we're never going to get there."