By Matt Davis
"…but in this world nothing can be said to be certain, except death and taxes." – Benjamin Franklin
Taxes are a necessary part of life. While we can endlessly debate everything from what our tax rates are to how our tax dollars are spent by our elected representatives, they enable our country to function. While taxes are timeless, in recent years, we, as a society, have become increasingly aware of the negative impact we have on our environment. Corporations, investors and individuals are more than ever focusing on the importance of ESG (environment, social, governance).
Tax credit investing offers investors an opportunity to do two things in a very efficient manner: 1) generate a positive investment return on capital earmarked to service federal and state tax liabilities, and 2) invest dollars allocated for taxes into ESG enabling projects.
The tax credit market provides a powerful tool for corporations and individuals to further ESG impact investment objectives. Let's examine how the tax credit market is becoming a valuable component in a cycle of ESG success.
Corporations: Most companies are actively pursuing an ESG agenda. Corporations are actively reducing their energy consumption, improving their water usage, diversifying their hiring standards and boards, and giving back to their communities. Many of these companies have utilized tax credits historically because it provides a powerful return on dollars that are earmarked for state and federal tax liabilities. They are now realizing the positive impact these investments have on their ESG strategies.
Asset Managers: Asset managers are constructing mutual funds, ETFs and managed portfolios that integrate ESG principles into their investment criteria. Asset management companies like BlackRock have been at the forefront of this movement. Citing preliminary studies, many asset managers believe investing in companies with sound ESG policies will outperform investing in companies without such policies. These portfolio managers and analysts are looking beyond traditional financial and business cycle metrics that have driven their investment process for generations. They are now also weighing a target company's efforts to successfully manage their businesses while incorporating ESG principles. They demand that the companies in which they invest are working to reduce their carbon footprints, improve their transparency, diversify their workforces and management teams, and support the communities where they operate.
Rating Agencies: Investors of all kinds rely on rating agencies and their invaluable work to monitor the financial health of the companies they cover. Companies like Morningstar, Moody's, S&P and Fitch provide critical analysis and ratings for a wide swath of corporate America that are an indispensable component of investors' valuation process. There are companies like MSCI, SASB and Sustainalytics that are focusing specifically on the ESG metrics of the companies they monitor. This evolving function will be critical for investors to analyze companies and ultimately determine where capital will be allocated based on the perceived effectiveness of corporate ESG programs and policies.

The Cycle of ESG Success in Action:
Here's how tax credit investments can contribute to an ESG cycle of success: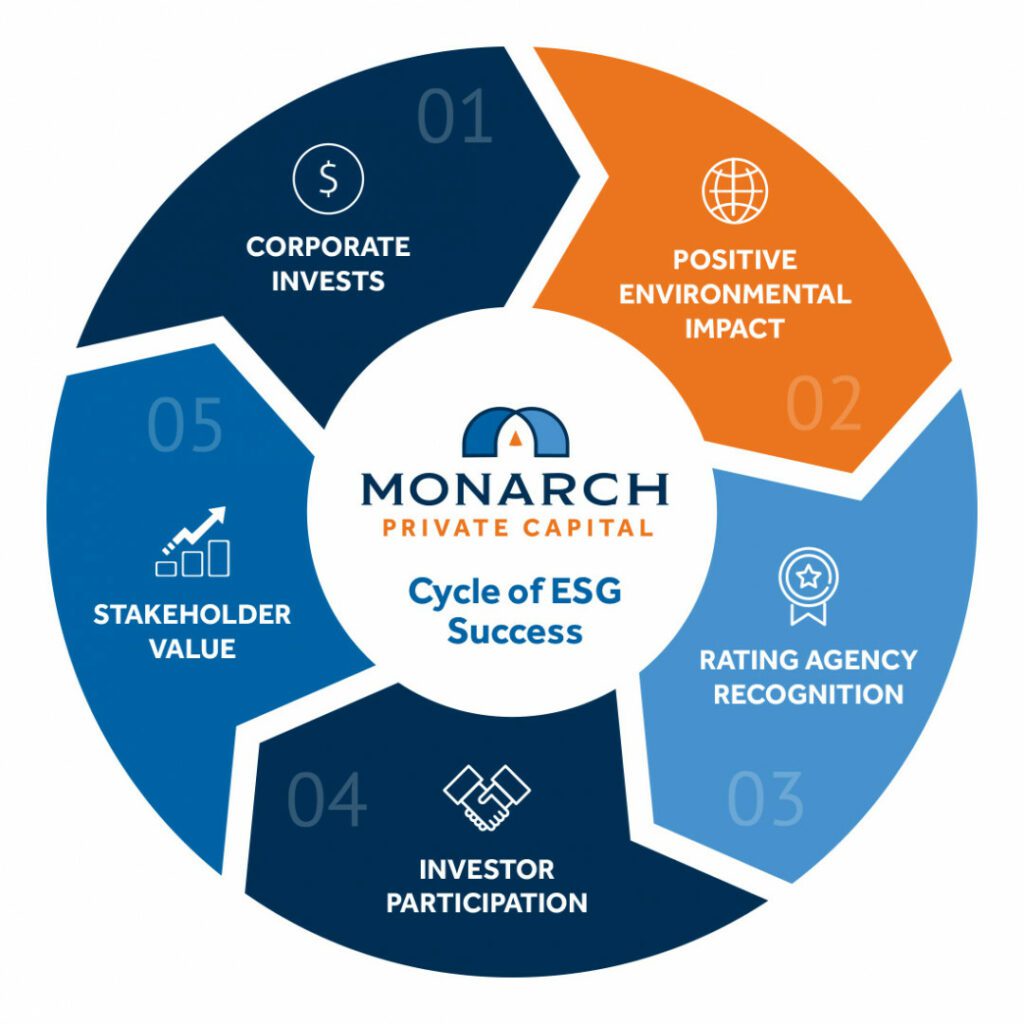 CORPORATE INVESTS – A corporation invests $25 million into a federal Solar ITC partnership. This investment is funded with capital earmarked for federal tax payments. This investment directly combats climate change, which positively impacts all of our futures.
POSITIVE ENVIRONMENTAL IMPACT – This investment adds 66 MWdc of clean, renewable energy to the utility grid. It reduces carbon emissions by 60K metric tons per year. It also reduces the company's federal tax liability and improves their earnings per share.
RATING AGENCY RECOGNITION – Rating agencies that incorporate ESG metrics into their rating criteria capture the positive benefits of this company's investment in renewable energy.
INVESTOR PARTICIPATION – Asset managers responding to their clients' needs are constructing ESG favorable portfolios. Along with their own expertise, they rely on the work of credit agencies to identify companies that are actively improving their ESG profiles. Our corporation's $25 million investment in the Solar ITC is a material positive that ratings agencies and investors reward.
STAKEHOLDER VALUE – This company's positive investment in solar energy has a direct positive impact on the environment. This positive impact can be highlighted in the annual report raising the visibility of the company with ESG savvy investors, thereby raising its share price.
This cycle of ESG success offers a potential roadmap of how tax credit investments can generate benefits that are quantifiable and repeatable. ESG related investments are becoming more imperative to any sustainable, long-term corporate strategy. Building a framework that synthesizes the efforts of corporations, asset managers, rating agencies and individual investors is progressing. As we move forward, a critical tipping point has certainly been crossed. We now assess what we do through an ESG lens. While the tax credit market is fairly mature, there are tremendous opportunities for growth as companies, individuals and investors realize the powerful positive impacts tax credit investing can make.
By George Strobel, Forbes Financial Council Member
Many people have heard of environmental, social and governance (ESG) investing. To a much lesser degree, investors have heard of tax credits and tax equity or tax credit investing. And even fewer investors are familiar with how to utilize tax credits or tax equity investing to accomplish their ESG goals, satisfy sustainability initiatives and mitigate their tax liability.
More importantly, with tax equity investing, ESG criteria and ESG impact can be quantified. Yes, you can direct how your tax dollars are to be used and measure their environmental and social impact. You can give your money a mission.
Tax Credits Background
Tax credits were created by the government to incentivize investment in areas such as renewable energy, historic rehabilitation and affordable housing by offering investors in these activities a dollar-for-dollar reduction in their tax liability. Corporations, financial institutions and insurance companies have long used tax credits to mitigate their federal and state tax liability while providing much needed capital for projects promoting clean energy, conveniently located quality workforce housing and historic renovations in communities across the country. Investments in these types of activities, where the primary return to the investor is the tax attributes of the investment, is referred to as tax equity investing.
By Matt Davis, Director of Tax Credit Investments
The ability of corporations to efficiently raise capital is a cornerstone of our economy. The orderly transferal of risk from buyers and sellers, from lending institutions to asset managers and insurance companies, helps ensure that our economy can continue to function and grow. I spent over 20 years of my career proudly supporting this effort.
For a variety of personal and professional reasons, I have recently made a meaningful pivot in my career to focus my efforts toward the developing field of ESG impact investing. Joining Monarch Private Capital has afforded me the opportunity to be a part of a great team at an established, fully integrated, best in class tax credit firm. Tax credit investing (also known as tax equity investing) enables companies to appreciably boost their ESG performance. But to better understand where I am now, it is worth reviewing the remarkable growth and sophistication of the corporate bond market I have left.
Corporate Bond Market Growth
Consider a few anecdotes that illustrate the incredible forward progress that has occurred over the last 25 years in the world of investment grade (IG) credit. In 1995, if an asset manager or insurance company had a list of corporate bonds for sale, they would fax that list to a number of broker-dealers seeking bids. Once those faxes were returned, trades would be awarded to each broker-dealer line item by line item. An enormous amount of energy had to be devoted to price discovery and execution.
Today, large, complex lists of corporate bonds can be sent to 50 dealers via electronic trading platforms, like Market Axess or TradeWeb, and executed in minutes. The IG corporate bond market is incredibly liquid, and this is a tremendous positive for investors and borrowers alike. Corporate borrowers now know with confidence the price where they can raise capital. Investors are able to trade, price and manage their corporate portfolios confidently. The last 25 years have seen massive advances in market liquidity, transparency and scale. Now, on any given day, over $20 billion in corporate bonds change hands in secondary market trading. Figure 1 illustrates the growth in average daily trading volume.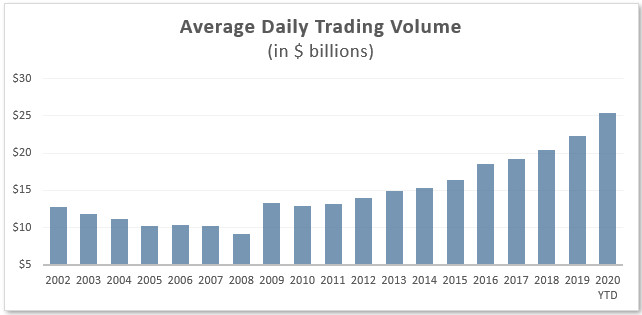 ---
The evolution of the corporate bond market has also been hugely beneficial for corporate borrowers. In the 1990s, the largest IG corporate bond underwriting was $500 million. Today, corporations can borrow billions of dollars across multiple maturities in one day. Earlier this year, for example, Boeing successfully raised $25 billion in the new issue market. Figure 2 illustrates growth in total IG corporate issuance.
---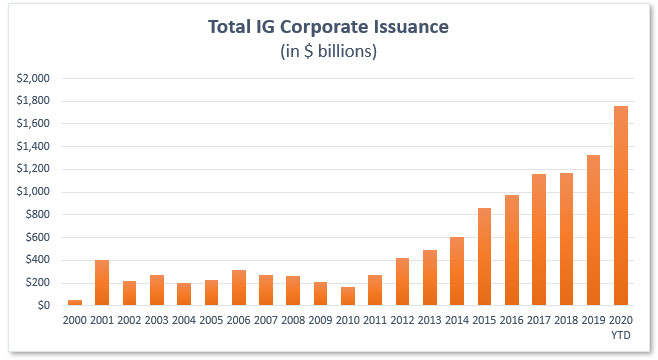 ---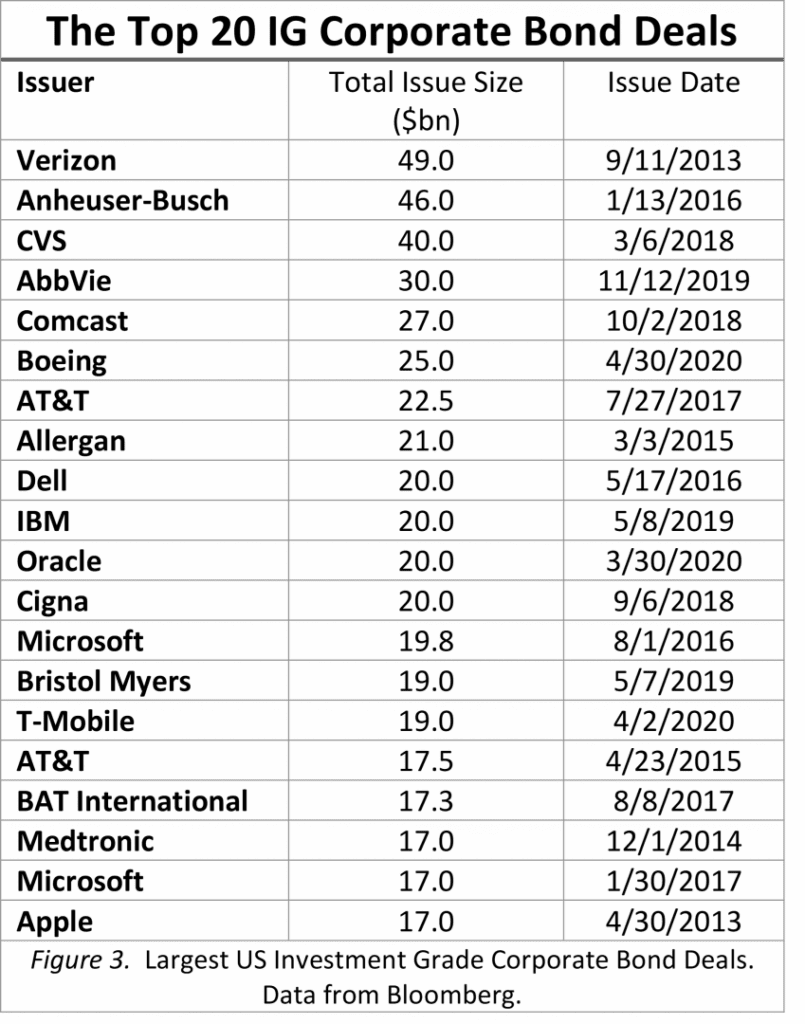 The capital markets have grown for many reasons, including technological innovation, increased transparency and persistently low-interest rates, enabling the size of the new issue market to grow materially. A look at the largest IG corporate bond issues in Figure 3 clearly illustrates the scale, growth and depth of this robust and critical cornerstone of our nation's capital markets.
Products with Environment and Social Benefits are Surging
One growing component of the corporate market offers a convenient transition relating to my move to the tax credit market and ESG investing. The Green Bond market has been a relatively small corner of the U.S. corporate universe, but it is experiencing strong growth over the past few years. A green bond specifically identifies its use of proceeds for climate and environmental projects. Corporations are increasingly in tune with their impact on our environment and accessing the capital markets to fund efforts to improve their carbon footprints will continue to grow. We can see two things from the data in Figure 4 – how much green issuance has picked up in the last few years and how much room there is for growth relative to the scale of the overall debt capital markets.
---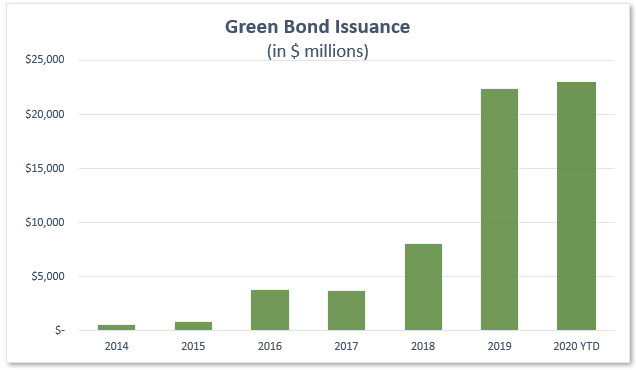 ---
Tax Credit Equity Funds are Inherently Green
The tax credit market provides a unique opportunity for investors to advance their ESG and impact investing agendas. The tax credit market is actually very mature, with the Low Income Housing Tax Credit (LIHTC) program being established in 1986. A new and exciting development in the space is the broadening awareness of something that has been evident all along: tax credit programs are incredibly efficient ESG investments. When an investor chooses to make a tax equity investment, they are actively choosing to repurpose their tax payments towards qualified projects that also meet their ESG and impact investment goals. Right now, the entire tax credit market is about $25 billion per year. Recall that $25 billion is a fairly typical volume of IG corporate debt traded in a single day! Figure 5 illustrates the current size of the tax credit market across renewables, affordable housing and historic.
---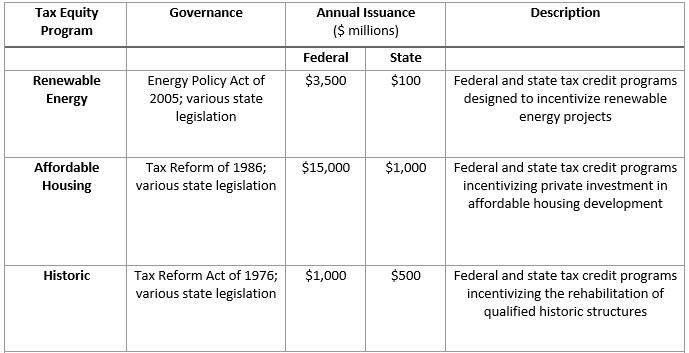 ---
Investors have begun to square the circle when it comes to tax credit investing. As investors search for green opportunities, the awareness of the tax credit market to further that agenda is growing.
Our Impact is Quantifiable
I look forward to helping promote and develop renewable energy to combat climate change, add affordable and safe housing to our communities, enable more people to have a chance at achieving the American dream, and save and refurbishing architecturally significant structures. ESG benefits derived from tax equity investing is also subject to empirical verification by ESG ratings agencies. Tax equity investing also has the virtue of providing far more predictable financial returns than other direct ESG investments, making tax equity investing a far more conservative alternative for achieving corporate ESG goals.
I used to measure myself by my production in metrics such as sales credits, commissions, and ranking with clients. Now I look forward to measuring my progress in terms of megawatts of clean energy added to the grid, the number of affordable housing units built for those in need and the number of historic structures saved and reborn for use by a new generation. Monarch Private Capital's ESG investing has provided me a fantastic platform to achieve this agenda.
For more information, please contact Matt Davis by emailing mdavis@monarchprivate.com.
By George Strobel, Forbes Financial Council Member
Environmental, social responsibility and good governance ("ESG") standards for business conduct continue to rise in importance as a result of the economic chaos and human suffering caused by the Covid-19 pandemic. While companies are developing more comprehensive criteria, the standards are far from consistent. The reasons for the inconsistencies are numerous, but of greatest concern is the bias of ratings and the lack of public disclosure about the criteria and standards used in making those ratings.
Consequently, unlike financial information reporting, which has relatively standardized, disseminated and objective criteria, the information provided to ratings agencies varies widely by company and lacks verifiability. Even worse, the basis used for evaluating this information is secretly maintained and lacks peer or public review. The result is that the investing public is provided ratings scorecards that are at best inconsistent, subjective and nonverifiable. At worst, the ratings mislead the investing public. The SEC has made note of these failings in its investigation of purported "ESG" focused funds.
One positive outcome of the pandemic is the increased focus on social and governance factors.
Given the desire for more balanced ESG reporting, now should also be the time for the generation of a more functional ESG rating framework. That requires the adoption of objective standards among ratings agencies. By implication, that means subjective criteria and evaluations must play a reduced role in the final ratings report. The objective is for thepublic to have access to the standardized ESG reports, the outcomes of which are not dependent on the firm preparing the report. The goal would be to move far closer to what investors receive in the financial reporting world where the results of a financial audit are not dependent on whether it is prepared by a global auditing firm. The same cannot be said for today's ESG reporting.
by George Strobel
References to concepts like ESG, impact investing, social responsibility, carbon footprint initiatives, sustainable investing, climate change, green or sustainable funds and other related concepts are at every turn now in the business media. Collectively, these can be referred to as "do good" precepts. This is not a new development. It's been ongoing for the past 20-30 years.
Whether or not you believe in climate change, sustainable renewable energy — which is cheaper in many cases and cleaner than fossil fuels — makes sense. Urging corporations to be mindful of the impacts they have on the communities they operate in is not a bad thing. While Europe is 20 years ahead of the U.S. in the integration of these concepts in standard business mantra, attention to these concepts in the U.S. is accelerating. But the new focus is on more than just climate change. What are these concepts, and how are they affecting business?
ESG
Today, it is standard for a public company to have an ESG report, a sustainability report or perhaps a social impact report included in a U.S. public company's annual report. So first, let us briefly discuss many of these more popular concepts. ESG stands for "environmental, social and governance," and it generally represents the most broadly applicable factors for evaluating the stewardship of a business.
The "environmenal" part of ESG examines how the business is operated in a sustainable manner from a global ecological perspective. This would clearly include attention to mitigating the business's carbon footprint and other global warming concerns, such as energy consumption, energy efficiencies and sustainability of the materials it uses, and its manufacturing and business processes. It would also include issues like water quality, waste removal and processing, etc.
The "social" prong of ESG relates to the overall social impact, both internally and externally, of the business and its products in the communities it serves. Does it have policies to combat discrimination of employees based on sex, gender, religion, age or any other relevant basis? Does it have programs or spend money assisting the communities in which it operates and serves with preventative health programs, medical assistance, basic educational assistance or similar programs? In other words, are the communities in which the business operates otherwise enhanced aside from the jobs and taxes created by the business?
The "G" part of ESG stands for "governance." This prong entails several things. For instance, is the decision-making process of the business open and straightforward? In times of crisis, does the company hold back information, or is it open with the public? Does the voting regime of the company reflect the economic rights of its shareholders?
Related Concepts
Read more on the related concepts and lack of standards here.
Company continues to focus on strengthening leadership talent
ATLANTA — Monarch Private Capital (MPC), a nationally recognized tax-advantaged investment firm that develops, finances, and manages a diversified portfolio of projects that generate federal and state tax credits, announced today that Ian Chomat has been promoted to Chief Financial Officer for the organization. Chomat moves into the role after serving as the Controller.
"One of Monarch's key attributes is our talent. Ian's arrival was part of a concerted effort to bring in top talent with experience to grow and expand our position in the industry," said MPC Co-CEO and Managing Director of Tax Credit Investments, George Strobel. "The structure and discipline that Ian has brought to MPC's financing and accounting departments is a testament to his leadership ability and financial acumen."
About Ian Chomat, Chief Financial Officer
Chomat has over fifteen years of experience in construction finance, development, and real estate industries. Prior to joining MPC, Chomat worked as Controller for a company which specialized in the development, construction, and syndication of low income housing tax credits. He's held various positions including Chief Financial Officer and was a consultant for both privately held and publicly traded companies. Chomat's career began in public accounting where he practiced both tax and assurance services for privately held companies.
"I'm excited for this opportunity and to continue to contribute to the growth of Monarch as a leader in tax equity investments," said Chomat.
Chomat earned a Bachelor of Arts in accounting and business from Flagler College. He is a Certified Public Accountant and Chartered Global Management Accountant.
For more information on MPC's programs and services, please contact George Strobel at 404-596-8032 or gstrobel@monarchprivate.com.
About Monarch Private Capital
Monarch Private Capital positively impacts communities by investing in tax credit supported industries. The company is a nationally recognized tax equity investor providing innovative capital solutions for affordable housing, historic rehabilitations, renewable energy, film, and other qualified projects. Monarch has long term relationships with institutional and individual investors, developers, and lenders that participate in these types of federal and state programs. Headquartered in Atlanta, Monarch has offices and tax credit professionals located throughout the U.S.
State (and local) tax incentives play an often underappreciated role in the success of federal tax incentives.
The low-income housing tax credit (LIHTC), new markets tax credit (NMTC), historic tax credit (HTC), renewable energy investment tax credit (ITC) and production tax credit (PTC), and opportunity zones (OZ) incentive are all part of the federal tax code, but state incentives to complement them make a significant difference.
This issue of the Novogradac Journal of Tax Credits highlights various state-level tax incentives and how they interact with the federal versions. Two things are obvious: State tax incentives are important and certain types are more successful.
How state tax incentives are structured varies widely. Many states have incentives that largely mimic the federal version (especially in the cases of the LIHTC and HTC), while others are more targeted, such as to specific types of businesses, geographic areas, or demographic groups. Some states embrace tax-based incentives for community development, others are averse to using the tax code to incentivize such activities.
State tax incentives are important–and it's worth looking at the big picture of what states are doing, what works and how different states are adapting. Most importantly, it's worth examining what works best when it comes to state-level incentives for affordable housing, community development, historic preservation and renewable energy.
Read more about why state tax incentives matter.
Clarifications from April 22 The National Law Review. See excerpt below. Read the full article here.
Substantially All Definition – the definition of "substantially all" as it is used throughout the OZ rules has been clarified, providing applicable percentage thresholds to meet the test;
Capital Gain Exclusion and Multi-Asset QOFs – qualified opportunity funds ("QOFs") will have more flexibility to include more than one investment in a QOF. The capital gain exclusion upon disposition of QOFs held for at least 10 years may be available for certain QOFs, such as partnership QOFs, if the QOF disposes of assets;
QOF Level Dispositions and Reinvestment – QOFs will have a one-year grace period to sell assets and reinvest the proceeds without triggering penalties;
The Working Capital Safe-Harbor – the working capital safe-harbor now applies to working capital designated for the development of a trade or business in the OZ;
Trade or Business Definition – the types of activities that constitute a trade or business of a qualified OZ business have been clarified, including certain leasing activities;
The 50% Test – the sourcing of gross income to the qualified OZ business in a taxpayer-friendly way, which should provide comfort to taxpayers setting up operating businesses in an OZ;
Leveraged Distributions – ordinary course leveraged distributions from partnership QOFs are generally permissible without causing an inclusion event, subject to partnership basis adjustment rules and a general anti-abuse rule; and
Original Use – original use commences when the person or prior person first places the property in service in the OZ for purposes of depreciation or amortization. Buildings vacant for at least five years may satisfy the original use test.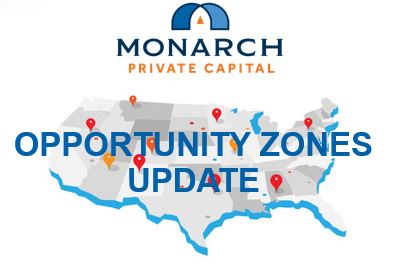 The U.S. Department of the Treasury issued its second set of proposed regulations related to the new Opportunity Zones (OZ) tax incentive.
The guidance makes it easier for funds to ensure compliance with the requirement that a fund has 90 percent of its assets invested in OZs and expands the working capital safe harbors. The proposed regulations also provide clarity on treatment of gains on long-term investments, ownership and operation of the business, and what constitutes Qualified OZ Business Property.  For the full guidance click here.
Below are the highlights:
if anyone invests… the money has one year to be reinvested
definition as to what can be done with distributions
Money has gone from being on the sidelines to being committed.
"We are pleased to issue guidance that provides greater flexibility for communities and investors as we continue to encourage investment and development in Opportunity Zones," said Secretary Steven T. Mnuchin.  "This incentive will foster economic revitalization, create jobs and spur economic growth that will move these communities forward and create a brighter future."