By Matt Davis
"…but in this world nothing can be said to be certain, except death and taxes." – Benjamin Franklin
Taxes are a necessary part of life. While we can endlessly debate everything from what our tax rates are to how our tax dollars are spent by our elected representatives, they enable our country to function. While taxes are timeless, in recent years, we, as a society, have become increasingly aware of the negative impact we have on our environment. Corporations, investors and individuals are more than ever focusing on the importance of ESG (environment, social, governance).
Tax credit investing offers investors an opportunity to do two things in a very efficient manner: 1) generate a positive investment return on capital earmarked to service federal and state tax liabilities, and 2) invest dollars allocated for taxes into ESG enabling projects.
The tax credit market provides a powerful tool for corporations and individuals to further ESG impact investment objectives. Let's examine how the tax credit market is becoming a valuable component in a cycle of ESG success.
Corporations: Most companies are actively pursuing an ESG agenda. Corporations are actively reducing their energy consumption, improving their water usage, diversifying their hiring standards and boards, and giving back to their communities. Many of these companies have utilized tax credits historically because it provides a powerful return on dollars that are earmarked for state and federal tax liabilities. They are now realizing the positive impact these investments have on their ESG strategies.
Asset Managers: Asset managers are constructing mutual funds, ETFs and managed portfolios that integrate ESG principles into their investment criteria. Asset management companies like BlackRock have been at the forefront of this movement. Citing preliminary studies, many asset managers believe investing in companies with sound ESG policies will outperform investing in companies without such policies. These portfolio managers and analysts are looking beyond traditional financial and business cycle metrics that have driven their investment process for generations. They are now also weighing a target company's efforts to successfully manage their businesses while incorporating ESG principles. They demand that the companies in which they invest are working to reduce their carbon footprints, improve their transparency, diversify their workforces and management teams, and support the communities where they operate.
Rating Agencies: Investors of all kinds rely on rating agencies and their invaluable work to monitor the financial health of the companies they cover. Companies like Morningstar, Moody's, S&P and Fitch provide critical analysis and ratings for a wide swath of corporate America that are an indispensable component of investors' valuation process. There are companies like MSCI, SASB and Sustainalytics that are focusing specifically on the ESG metrics of the companies they monitor. This evolving function will be critical for investors to analyze companies and ultimately determine where capital will be allocated based on the perceived effectiveness of corporate ESG programs and policies.

The Cycle of ESG Success in Action:
Here's how tax credit investments can contribute to an ESG cycle of success: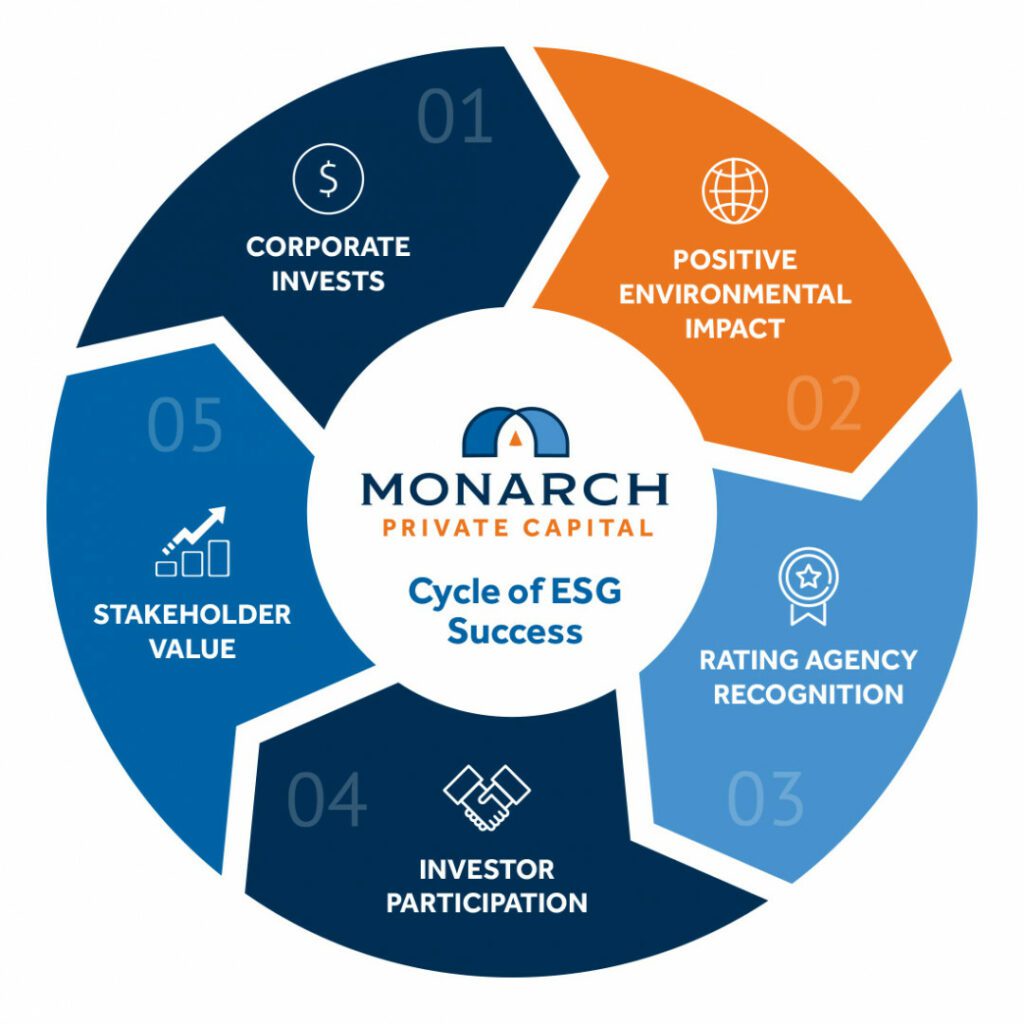 CORPORATE INVESTS – A corporation invests $25 million into a federal Solar ITC partnership. This investment is funded with capital earmarked for federal tax payments. This investment directly combats climate change, which positively impacts all of our futures.
POSITIVE ENVIRONMENTAL IMPACT – This investment adds 66 MWdc of clean, renewable energy to the utility grid. It reduces carbon emissions by 60K metric tons per year. It also reduces the company's federal tax liability and improves their earnings per share.
RATING AGENCY RECOGNITION – Rating agencies that incorporate ESG metrics into their rating criteria capture the positive benefits of this company's investment in renewable energy.
INVESTOR PARTICIPATION – Asset managers responding to their clients' needs are constructing ESG favorable portfolios. Along with their own expertise, they rely on the work of credit agencies to identify companies that are actively improving their ESG profiles. Our corporation's $25 million investment in the Solar ITC is a material positive that ratings agencies and investors reward.
STAKEHOLDER VALUE – This company's positive investment in solar energy has a direct positive impact on the environment. This positive impact can be highlighted in the annual report raising the visibility of the company with ESG savvy investors, thereby raising its share price.
This cycle of ESG success offers a potential roadmap of how tax credit investments can generate benefits that are quantifiable and repeatable. ESG related investments are becoming more imperative to any sustainable, long-term corporate strategy. Building a framework that synthesizes the efforts of corporations, asset managers, rating agencies and individual investors is progressing. As we move forward, a critical tipping point has certainly been crossed. We now assess what we do through an ESG lens. While the tax credit market is fairly mature, there are tremendous opportunities for growth as companies, individuals and investors realize the powerful positive impacts tax credit investing can make.
By George Strobel, Forbes Financial Council Member
Many people have heard of environmental, social and governance (ESG) investing. To a much lesser degree, investors have heard of tax credits and tax equity or tax credit investing. And even fewer investors are familiar with how to utilize tax credits or tax equity investing to accomplish their ESG goals, satisfy sustainability initiatives and mitigate their tax liability.
More importantly, with tax equity investing, ESG criteria and ESG impact can be quantified. Yes, you can direct how your tax dollars are to be used and measure their environmental and social impact. You can give your money a mission.
Tax Credits Background
Tax credits were created by the government to incentivize investment in areas such as renewable energy, historic rehabilitation and affordable housing by offering investors in these activities a dollar-for-dollar reduction in their tax liability. Corporations, financial institutions and insurance companies have long used tax credits to mitigate their federal and state tax liability while providing much needed capital for projects promoting clean energy, conveniently located quality workforce housing and historic renovations in communities across the country. Investments in these types of activities, where the primary return to the investor is the tax attributes of the investment, is referred to as tax equity investing.
By Matt Davis, Director of Tax Credit Investments
The ability of corporations to efficiently raise capital is a cornerstone of our economy. The orderly transferal of risk from buyers and sellers, from lending institutions to asset managers and insurance companies, helps ensure that our economy can continue to function and grow. I spent over 20 years of my career proudly supporting this effort.
For a variety of personal and professional reasons, I have recently made a meaningful pivot in my career to focus my efforts toward the developing field of ESG impact investing. Joining Monarch Private Capital has afforded me the opportunity to be a part of a great team at an established, fully integrated, best in class tax credit firm. Tax credit investing (also known as tax equity investing) enables companies to appreciably boost their ESG performance. But to better understand where I am now, it is worth reviewing the remarkable growth and sophistication of the corporate bond market I have left.
Corporate Bond Market Growth
Consider a few anecdotes that illustrate the incredible forward progress that has occurred over the last 25 years in the world of investment grade (IG) credit. In 1995, if an asset manager or insurance company had a list of corporate bonds for sale, they would fax that list to a number of broker-dealers seeking bids. Once those faxes were returned, trades would be awarded to each broker-dealer line item by line item. An enormous amount of energy had to be devoted to price discovery and execution.
Today, large, complex lists of corporate bonds can be sent to 50 dealers via electronic trading platforms, like Market Axess or TradeWeb, and executed in minutes. The IG corporate bond market is incredibly liquid, and this is a tremendous positive for investors and borrowers alike. Corporate borrowers now know with confidence the price where they can raise capital. Investors are able to trade, price and manage their corporate portfolios confidently. The last 25 years have seen massive advances in market liquidity, transparency and scale. Now, on any given day, over $20 billion in corporate bonds change hands in secondary market trading. Figure 1 illustrates the growth in average daily trading volume.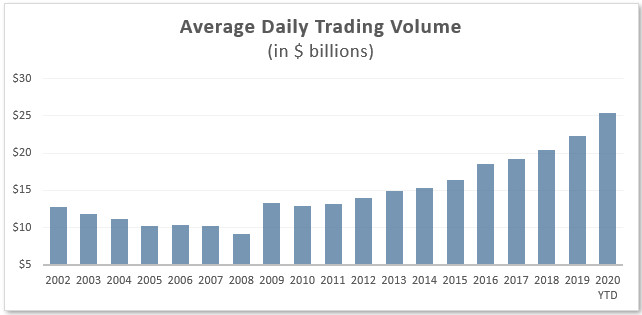 ---
The evolution of the corporate bond market has also been hugely beneficial for corporate borrowers. In the 1990s, the largest IG corporate bond underwriting was $500 million. Today, corporations can borrow billions of dollars across multiple maturities in one day. Earlier this year, for example, Boeing successfully raised $25 billion in the new issue market. Figure 2 illustrates growth in total IG corporate issuance.
---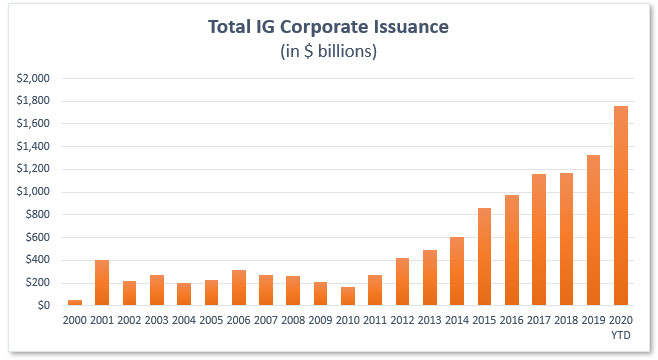 ---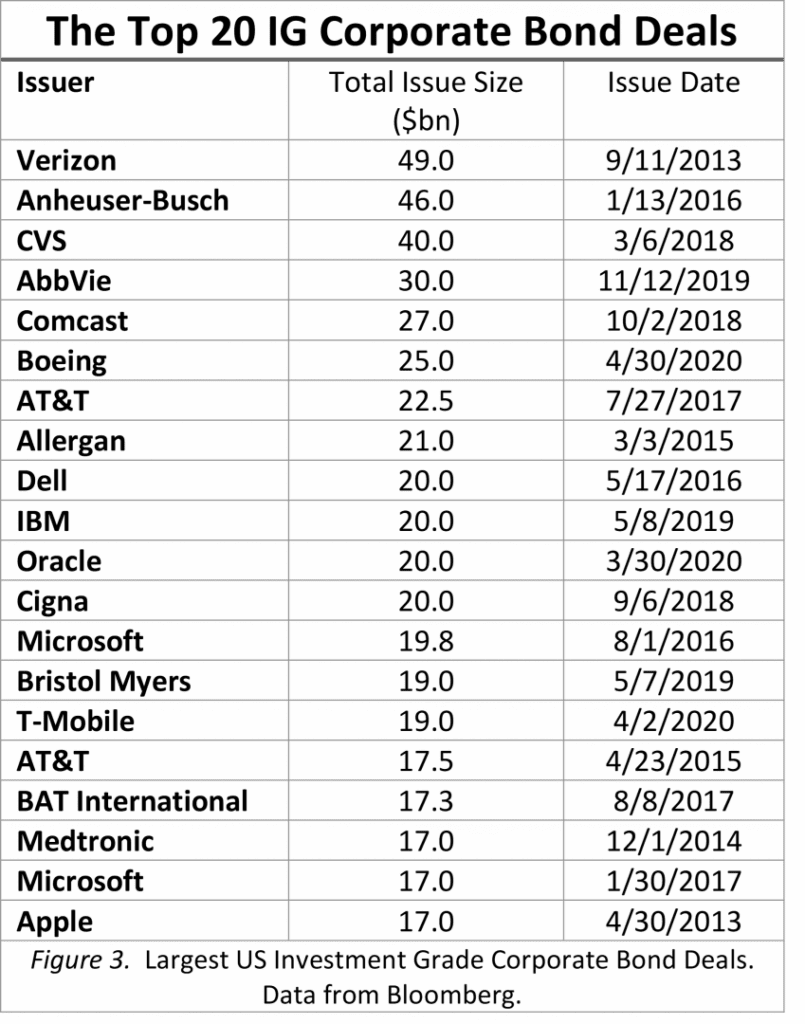 The capital markets have grown for many reasons, including technological innovation, increased transparency and persistently low-interest rates, enabling the size of the new issue market to grow materially. A look at the largest IG corporate bond issues in Figure 3 clearly illustrates the scale, growth and depth of this robust and critical cornerstone of our nation's capital markets.
Products with Environment and Social Benefits are Surging
One growing component of the corporate market offers a convenient transition relating to my move to the tax credit market and ESG investing. The Green Bond market has been a relatively small corner of the U.S. corporate universe, but it is experiencing strong growth over the past few years. A green bond specifically identifies its use of proceeds for climate and environmental projects. Corporations are increasingly in tune with their impact on our environment and accessing the capital markets to fund efforts to improve their carbon footprints will continue to grow. We can see two things from the data in Figure 4 – how much green issuance has picked up in the last few years and how much room there is for growth relative to the scale of the overall debt capital markets.
---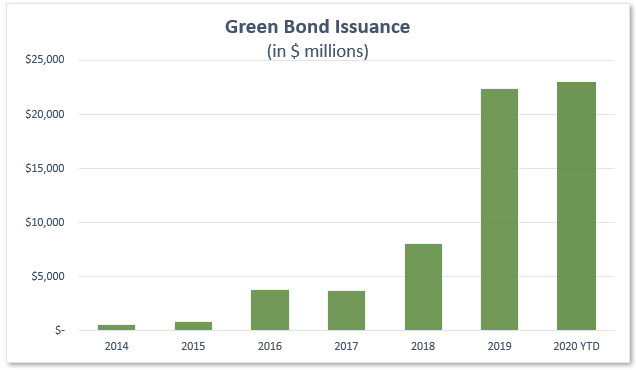 ---
Tax Credit Equity Funds are Inherently Green
The tax credit market provides a unique opportunity for investors to advance their ESG and impact investing agendas. The tax credit market is actually very mature, with the Low Income Housing Tax Credit (LIHTC) program being established in 1986. A new and exciting development in the space is the broadening awareness of something that has been evident all along: tax credit programs are incredibly efficient ESG investments. When an investor chooses to make a tax equity investment, they are actively choosing to repurpose their tax payments towards qualified projects that also meet their ESG and impact investment goals. Right now, the entire tax credit market is about $25 billion per year. Recall that $25 billion is a fairly typical volume of IG corporate debt traded in a single day! Figure 5 illustrates the current size of the tax credit market across renewables, affordable housing and historic.
---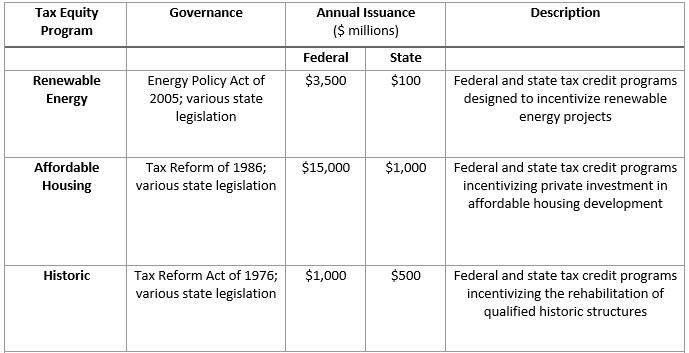 ---
Investors have begun to square the circle when it comes to tax credit investing. As investors search for green opportunities, the awareness of the tax credit market to further that agenda is growing.
Our Impact is Quantifiable
I look forward to helping promote and develop renewable energy to combat climate change, add affordable and safe housing to our communities, enable more people to have a chance at achieving the American dream, and save and refurbishing architecturally significant structures. ESG benefits derived from tax equity investing is also subject to empirical verification by ESG ratings agencies. Tax equity investing also has the virtue of providing far more predictable financial returns than other direct ESG investments, making tax equity investing a far more conservative alternative for achieving corporate ESG goals.
I used to measure myself by my production in metrics such as sales credits, commissions, and ranking with clients. Now I look forward to measuring my progress in terms of megawatts of clean energy added to the grid, the number of affordable housing units built for those in need and the number of historic structures saved and reborn for use by a new generation. Monarch Private Capital's ESG investing has provided me a fantastic platform to achieve this agenda.
For more information, please contact Matt Davis by emailing mdavis@monarchprivate.com.
Since its inception, the Missouri Low Income Housing Tax Credit (LIHTC) program has provided quality affordable homes across the state to low income families, seniors, veterans, disabled and special needs individuals. With a new facelift, the program has been reinstated by the Missouri Housing Development Commission (MHDC) after nearly a three-year hiatus. Under the direction of former Governor Eric Greitens, the state LIHTC program was ended in an effort to curtail tax credit programs and the special interest groups that supported them. Greitens' move to end the program was viewed as a political maneuver rather than one based on factual information. Since Greitens' resignation in June 2018, newly appointed Governor Parson, the MHDC and other key members of Missouri's legislative houses have been pushing for the reinstatement of the State LIHTC program, albeit with a few alterations to make the program more effective for Missouri taxpayers.
Background & Former Program
The Missouri LIHTC program started in 1990 under Section 135.350 to 135.363 RSMo. Devised to supplement the federal LIHTC program, which was enacted in 1986, the state program gave MHDC the ability to allocate state credits to match the annual federal allotment. The program began by allocating these state tax credits to projects equal to 20% of the federal total. In 1994, the number of state credits allocated increased up to 40% of the federal credit total, primarily to assist areas that lost housing in the 1993 flood. Beginning in 1997 and through 2018, the state credit was increased up to 100% of the federal credit for all areas.
Developers of a qualifying project to which the federal credit is allocated by MHDC through a selection criteria established by the Qualified Allocation Plan (QAP) receive a federal credit equal to 9% of the qualified basis of the project for ten years. For projects financed with tax-exempt bonds, the federal tax credit is reduced to equal 4% of the qualified basis. Projects seeking 9% credits are awarded on a competitive basis, as compared to projects seeking 4% credits, which are awarded based on the availability of tax-exempt bond financing. The credit is limited to a percentage of the qualified basis, based upon a depreciable basis, and the percentage of affordable units in the development. The minimum number of qualifying units is (1) 40% of the total number of units affordable to persons at 60% of the median income or (2) 20% affordable to persons at 50% of the median income, as stated in a report from the Missouri State Auditor's Office.
The MHDC is responsible for the allocation of federal and state credits and assuring compliance with the regulations. The compliance process includes periodic physical inspections of the property, annual audits, as well as reviews of management and occupancy procedures during a minimum 15-year compliance period. The Missouri LIHTC is an allocable credit, meaning that transferability of the credit is completed by subscribing to the fund level partnership and receiving a K-1. Section 135.352 RSMo allows the credits to be carried back three years to offset prior tax liability or carried forward for five years to offset future tax liability. In addition, the tax credits may be redeemed against state income tax, corporate franchise tax, financial institution tax or insurance company premium tax.
The New Program
Over the past three years, key Missouri legislators have been brainstorming ideas on how to revise the old state LIHTC program in order to reduce the fiscal burden of the program without jeopardizing much- needed housing. What came out of those discussions are three main changes to the former QAP.
First, the statewide credit match was reduced from up to 100% of the available and authorized allocated federal LIHTC to an amount up to 70% for 9% deals. Deals utilizing tax-exempt bonds for financing or "4% deals" have a ceiling cap of $3M per year. The amount of state LIHTCs approved for a development cannot exceed the Federal LIHTC amount authorized and is based on the financial feasibility needs analysis of the development by the MHDC.
Second, the MHDC is rolling out a credit redemption pilot program for the 2020 QAP applications, which are due October 30th. As per the QAP revisions from the MHDC, developers can submit their application under the standard redemption method and/or under the accelerated redemption method. Only 20% of the deals awarded credits will be under the accelerated method. What does this mean? Under the accelerated method, the state credit will match the federal credit during the first five years. The remaining allocated credits will be evenly spread across the last five-year credit period. In other words, more credits will be issued during the credit's most valuable years. The Commission believes this will increase credit pricing, generating additional equity, and facilitating the construction of additional units.
Lastly, in order to establish a more even playing field and provide transparency as to why projects are selected and receive allocations, the MHDC has revised the scoring rubric's "Credit Efficiency" criterion. Applications will be divided into four categories: (1) Family New Construction; (2) Senior New Construction; (3) Family Rehab; and (4) Senior Rehab. The average eligible LIHTC amount per LIHTC bedroom will be based on data from 2020 submitted applications, and a "safe harbor" will be set in place for each category at 2.5% above and 2.5% below the average for each respective category.
Benefits to Missouri Residents
Over 117,000 low income households in Missouri are without access to affordable rental housing, as reported by the National Low Income Housing Coalition. Of this figure, 80% are working residents whose income is below the poverty guidelines, seniors and the disabled. A program like the Missouri LIHTC program provides more options and security for our residents by decreasing poverty, increasing overall community health, spurring economic investment and job creation, providing access to better education, along with giving Missourians a chance for a better life.
About Monarch Private Capital
Monarch Private Capital manages ESG funds that positively impact communities by creating clean power, jobs, and homes. The funds provide predictable returns through the generation of federal and state tax credits. The Company offers innovative tax credit equity investments for affordable housing, historic rehabilitations, renewable energy, film, and other qualified projects. Monarch Private Capital has long-term relationships with institutional and individual investors, developers, and lenders that participate in these types of federal and state programs. Headquartered in Atlanta, Monarch has offices and tax credit professionals located throughout the U.S.
As we approach the final tax return filing deadline for individual and corporate taxpayers, there is increased activity in the market for Georgia film tax credits as well as Georgia low income housing tax credits. This article will briefly overview both programs and help provide clarity for taxpayers who are looking to utilize tax credits to reduce their Georgia state liability.
What is the same?
Both the GA film credit and the GA low income housing credit are generated based on a percentage of qualified expenditure from the respective projects. When the entities that generate these credits cannot also utilize them, they can be transferred tothird party taxpayers at a discounted price to their face value.
Both credits are treated as property and therefore have similar tax treatment. In both cases, a capital gain is recognized on the day a tax return is filed claiming the credits. The amount of the gain is calculated as the face value of the credits less the investor's basis. Taxpayers can maximize their return on investment by holding credits for one-year prior to filing their Georgia tax returns, consequently recognizing the capital gain at long-term rates instead of short-term rates.
Both of these credits are able to be carried forward from the year they are generated. Film credits carry forward five years, and low income housing credits carry forward for three years.
What is the risk? Recapture risk is similar between both credits. There is an increased level of assurance with the low income housing credits because the risk is diversified. Monarch creates a fund made up of several low income housing projects, and investors receive a portion of credits from each of the projects to make up their total allocation of credits.
What is different?
The main difference between the two credits is how the transfer of the credit is facilitated.
Film credits are referred to as transferrable credits. This means that credits can be transferred directly from a production studio to a taxpayer. The taxpayer receives a Form IT-TRANS as evidence of the transfer, then the IT-TRANS is used by the taxpayer to claim the film credits on their Georgia return. This is typically the preferred method of transfer because of how easy the process is. It is a one-time transaction, and the transfer is completed within five business days of the taxpayer funding their investment.
Low income housing credits are referred to as allocable credits. This means that taxpayers subscribe to a partnership fund created by Monarch and are allocated low income housing credits through a K-1. Taxpayers are deemed to have acquired an intangible asset, a tax credit, and to have made a partnership investment. A small portion of the taxpayer's investment is allocated to their partnership capital account (1%), and the majority of the investment is allocated to their basis in the credits (99%). Investors will receive an allocation of credits through a K-1 and will then receive blank K-1's for the next four years. The partnership dissolves after five years, and the investor gets to recognize a small capital loss equal to the amount of their investment allocated to their capital account.
Timing
Low income housing credits are less flexible in terms of the timing of purchase. The credits need to be bought during the tax year in which they will be applied against. So, if you are purchasing low income housing credits to be used on your 2020 tax return, they need to be purchased during 2020. This is because these credits are allocable, and investors need to be subscribed to a fund during the year in which they wish to receive credits.
Because film credits are transferrable, they are more flexible when it comes to the timing of purchase. You can buy 2019 film credits during 2020 to apply against your 2019 tax liability. Similarly, as long as you are still within the statute of limitations, you can buy film credits from a prior year, amend your prior year return, and receive an increased refund.
Another difference between the two credits is the price.
Low income housing credits are typically priced lower than film credits. The after-tax return for low income housing credits is around 14%, compared to an approximate 10% after-tax return for film credits.
Low income housing credits can also be bought in multiple year increments. When bought in multiple year increments, the return to investors greatly increases. This is because of a further discounted price as well as more favorable tax treatment.
For more information, please contact Ryan Degnan by emailing rdegnan@monarchprivate.com.
The history and rehabilitation of the St. John's Seminary
For nearly two decades, San Antonio's housing costs have increased faster than the household Area Median Income (AMI), according to San Antonio's Housing Policy Framework. As a result, tens of thousands of San Antonio's households find themselves spending too much of their income on housing costs. Historic Tax Credits (HTC) are imperative to filling financial gaps, and to restoring and revitalizing communities. With the looming housing crisis, acting as a catalyst for the economic and social advancement of the area.
A Brief History
The land of the St. John's Seminary was the original site of Mission Concepción. Here, various indigenous tribes were invited to come live within the safety of the mission walls, growing in their faith and established farming communities. Over time, the walls began to crumble, and their stones were used to build homes outside of the compound, forming a new neighborhood around the old mission. After much turnover, an orphanage was established in 1929 as well as the new seminary, St. John's. The St. John's property continued for a while as a pre-seminary boarding high school for boys, but that came to an end in 1970. In the following year, a substance abuse program called the Patrician Movement, inhabited the campus until June of 2011, at which time it was abandoned. In 2019, the property was rehabilitated into The St. John Apartments, a Class-A apartment community, providing San Antonio residents affordable housing and valuable resources.
When the property was vacated in 2011, it became a hotbed of crime and vandalism. The homeless would sleep in the buildings or use them to shelter from the cold, and the grounds were littered with food scraps and empty bottles. After several small fires were set, it became clear that action needed to be taken in restoring and preserving the history and structural integrity of such a significant landmark.
Monarch Private Capital joined forces with Mission DG to help alleviate some of the financial burden in the San Antonio community and also preserve its history by rehabilitating the St. John's Seminary into quality housing, reserving 75 percent of its units for cost-burdened households.
About the Rehabilitation
Because the history of the site and building needed to be preserved, the renovation of the development wasn't easy. An archaeological team had to be on-site every day to make sure no important historic artifacts were uncovered while digging. This, along with a few significant features of the building that needed to be carefully preserved, required great expertise and attention to detail.
The rehabilitation of St. John's Seminary called for the redevelopment of three historic structures and the construction of seven new apartment buildings, resulting in a total of 228 well-developed apartment units. The old chapel was also renovated for the use of the Catholic church and new amenities and common areas were added. The historic buildings contain 40 housing units and five of the seven new structures house 188 units. One and two-bedroom floor plans are available, each equipped with full kitchens, balconies or patios and in-unit washers and dryers. Residents of the new St. John Apartments can also enjoy a playground, dog park, pool, fitness center and even a game room. The church also has a support center, offices and a coffee shop.
Awards and Recognition
In 2019, The Power of Preservation PROMenade event awarded Mission DG with the 2019 People's Choice award for the redevelopment of St. John's Seminary, celebrating the achievements of the company and their visions for the reuse and revitalization of San Antonio's historic buildings and neighborhoods.
In 2020, The St John was announced as the winner of the Best Affordable Multifamily Residential Development Award from the San Antonio Business Journal, recognizing the impressive project and honoring Mission DG for bringing it to fruition.
Final Thought
From missionaries seeking to share the teachings of their faith to students on a quest to expand their knowledge, St. John's Seminary has supported the progress and evolution of humanity in a lot of unique ways. Thanks to the HTC, this project brings a number of opportunities to San Antonio residents, including new jobs and a clean, safe and affordable environment to not just live but thrive in.
About the Developer
Mission DG is one of San Antonio's premier real estate development firms, specializing in complex historic, adaptive reuse, urban infill, and multifamily housing projects. The company has a portfolio of over 2,600 residential units either completed or under construction in San Antonio and surrounding areas. Mission DG currently has 6 projects in development and $345 million invested in Texas Communities.
By George Strobel, Forbes Financial Council Member
Environmental, social responsibility and good governance ("ESG") standards for business conduct continue to rise in importance as a result of the economic chaos and human suffering caused by the Covid-19 pandemic. While companies are developing more comprehensive criteria, the standards are far from consistent. The reasons for the inconsistencies are numerous, but of greatest concern is the bias of ratings and the lack of public disclosure about the criteria and standards used in making those ratings.
Consequently, unlike financial information reporting, which has relatively standardized, disseminated and objective criteria, the information provided to ratings agencies varies widely by company and lacks verifiability. Even worse, the basis used for evaluating this information is secretly maintained and lacks peer or public review. The result is that the investing public is provided ratings scorecards that are at best inconsistent, subjective and nonverifiable. At worst, the ratings mislead the investing public. The SEC has made note of these failings in its investigation of purported "ESG" focused funds.
One positive outcome of the pandemic is the increased focus on social and governance factors.
Given the desire for more balanced ESG reporting, now should also be the time for the generation of a more functional ESG rating framework. That requires the adoption of objective standards among ratings agencies. By implication, that means subjective criteria and evaluations must play a reduced role in the final ratings report. The objective is for thepublic to have access to the standardized ESG reports, the outcomes of which are not dependent on the firm preparing the report. The goal would be to move far closer to what investors receive in the financial reporting world where the results of a financial audit are not dependent on whether it is prepared by a global auditing firm. The same cannot be said for today's ESG reporting.
A look at Logansport Solar and its unique benefits to the community
As years pass and seasons change, it's becoming clear that renewable resources not only are the future, but ultimately, they're the determining factor of what our future holds. The solar Investment Tax Credit (ITC) program plays an instrumental role in propelling the U.S. forward toward a brighter, more sustainable environment and economy. By developing clean power sources like solar farms, we have the opportunity to provide a better world to live in for generations to come. Alchemy Renewable Energy, a portfolio company of Monarch Private Capital, is committed to creating a more sustainable future by facilitating all stages of development and operations of solar farms across the U.S.
To fulfill this commitment, Alchemy partnered with Inovateus Solar on an 80-acre 16-megawatt-AC solar installation in Logansport, Indiana, by arranging the financing. As the city's first-ever solar power plant, it will replace the recently retired coal-fired power plant that the area has relied on for 132 years. This new solar installation will benefit the community and neighboring areas in a variety of ways, including reducing Logansport Municipal Utility's (LMU) carbon emissions, helping stabilize energy costs for LMU's customers, and even host a bee and butterfly habitat that will benefit agriculture in the surrounding areas.
Environmental Impact
Based on an estimated lifespan of 40 years, the project is projected to abate 689,558 MT CO2e, which is equivalent to:
88 billion smartphones charged
78 million gallons of gasoline consumed, and
149,000 passenger cars driven on the road for a year.
Social Impact
The positive impact doesn't stop there, however. Inovateus is further helping the community by designing a solar education program to engage schools in the Logansport Community School Corporation, and they are launching a college scholarship contest for naming the solar park. To help maintain the neighborhood around the solar park, Inovateus designed a 45-foot vegetation buffer around the solar array. The buffer will feature native Northern Indiana trees, plants, and more than 100 tulip trees donated by the community.
Bird & Pollinator-Friendly Solar Day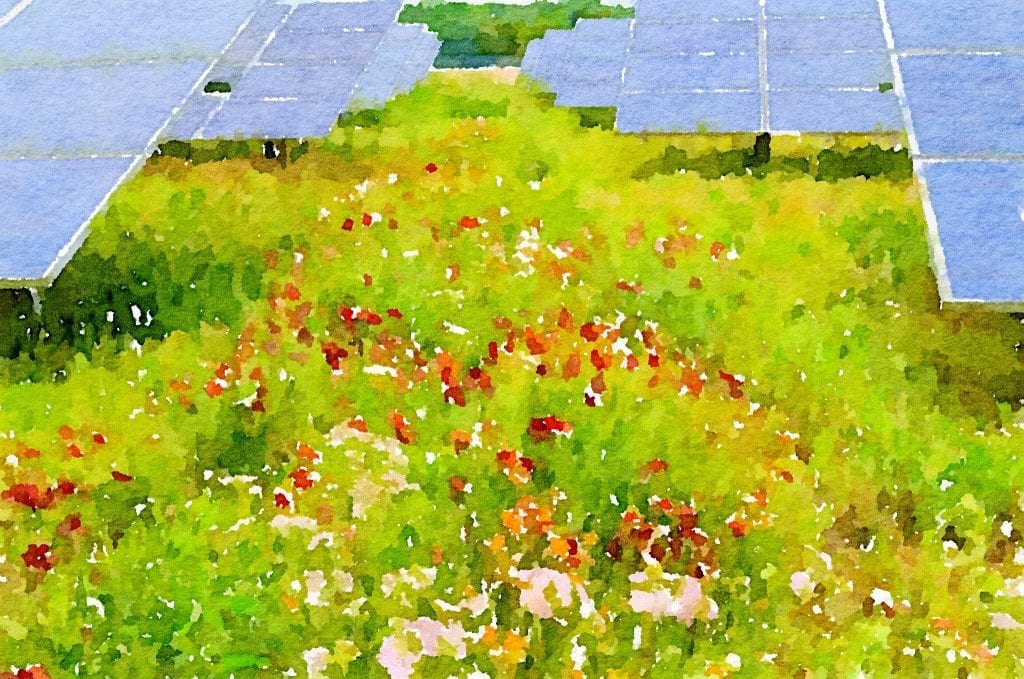 After construction is completed in the first quarter of 2021, Inovateus has partnered with Fresh Energy and the Bee & Butterfly Habitat Fund to plant a pollinator seed mix under and around the solar panels instead of traditional ground cover. Planting a pollinator mix will cultivate honeybees and butterflies that local farmers rely on for pollinating their crops. The National Renewable Energy Laboratory's InSPIRE study is actively studying pollinator-friendly and low-impact solar development approaches to quantify the ecosystem and agricultural benefits. To commemorate the pollinator-friendly ground cover that will eventually be planted under the solar array, The City of Logansport will recognize June 26th as Bird & Pollinator-Friendly Solar Day.
The benefits of solar energy are extensive, positively impacting communities environmentally, socially and economically. Clean energy will create a better future, and it is crucial that we pave a better road ahead so that today's youth can be strong, healthy and effective voices of tomorrow.
About the Developer
Inovateus Solar is a leading solar and energy storage development, EPC (engineering, procurement, and construction) and supply company in the Midwest United States. Headquartered in South Bend, Indiana, the company has 453 MW of utility, commercial, industrial, and education sector solar PV projects built and under development in the U.S. and the Caribbean. With strong roots in the communities it serves, Inovateus is passionately committed to investing in the energy future of clients through the wide-scale deployment of solar and clean energy technologies.
As the largest source of new affordable housing in the United States, the low-income housing tax credit (LIHTC) program is one of the federal government's primary policy tools for encouraging the development of affordable rental housing. According to the National Multifamily Housing Council, the LIHTC program has supported 3.4 million jobs while generating $323 billion in local income and $127 billion in Federal, state and local tax revenues. Tranquility at Griffin, an affordable housing tax equity investment of Monarch Private Capital, is a great example of the LIHTC program hard at work.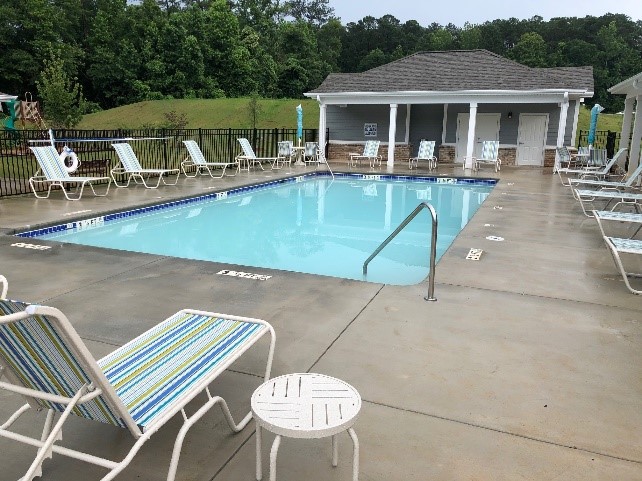 Located in Griffin Georgia, Tranquility at Griffin provides new resources and opportunities for the community. This new $20 million development is a 120-unit family apartment complex with rents structured to be affordable for households earning at or below 60% of the average median income (AMI). Consisting of 5 three-story tenant buildings with floorplans ranging from 1-3 bedrooms, Tranquility at Griffin has many features, services and amenities perfect for families, including a pool, dog park, playground, tot-lot, covered picnic pavilion, exercise room, on-site laundry and a community building. By providing quality housing as well as family-friendly amenities, this new development sparks the growth and revitalization of the area.
Tranquility at Griffin will help relieve some of the financial stress so prevalent in the area by filling a 15+ year void of new affordable housing in Griffin. Access to affordable housing is not only imperative to a good quality of life, but also to healthy development. According to the National Center for Children in Poverty (NCCP), 15 million children – 21 percent of all children in the United States – live in families with incomes below the federal poverty level. Poor housing conditions can have a serious negative impact on a child's performance in school and it can also lead to poor health conditions. These health issues include worsening asthma and allergies, which can be linked to things like pests, molds and chronic dampness. Lead exposure and an increased risk of accidents or injuries from exposed wiring and other needed repairs are also major detrimental factors to healthy development.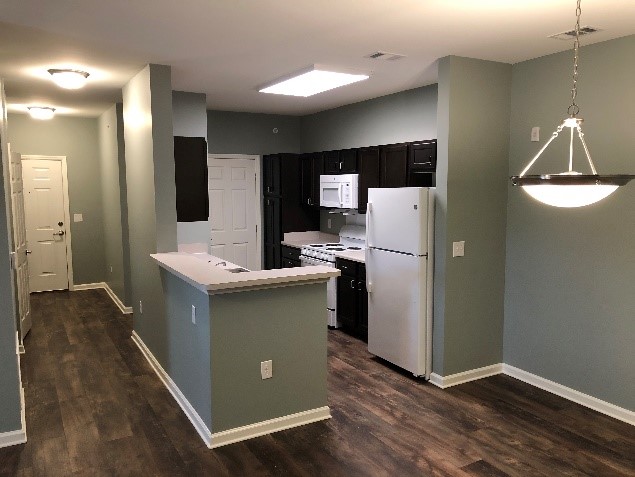 Tranquility at Griffin provides safe, clean and quality housing to the Griffin community. Children that were facing these challenges brought on by their living situations now have brighter futures ahead of them. The playground is a safe and fun environment where they can socialize and play. Their homes can now be a source of comfort and security, which is imperative to healthy development. Best of all, their community can be a place of opportunity. This new development helps stimulate the local economy by increasing local purchasing power and bringing in new jobs and tax revenues.
Affordable housing allows families to put more toward other important household needs and savings for the future. When households can pay less on rent, more can be spent on essentials like food and clothing or even things like extra-curriculars and educational programs for children that many may not even realize is a privilege. Tranquility at Griffin is just a small drop in the bucket when addressing the United States housing crisis, but it will change the lives of those in the Griffin community for the better. At Tranquility at Griffin, families can spend more time together and less time worrying about bills.
About the Developers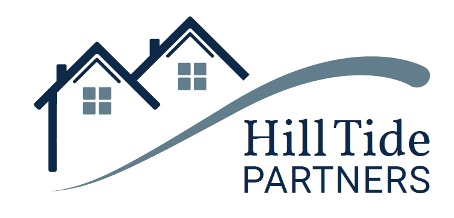 Hill Tide Partners was founded as a real estate investment company that provides growth capital and investment services to its partners. The firm leverages the partners' combined experience of more than 35 years in the Real Estate and Low-Income Housing Tax Credit (LIHTC) industry to develop synergies across its partner operating companies. The founders believe that everyone deserves affordable housing and strive to have a positive impact on communities through housing development. With $577 million in total development costs, Hill Tide and its partners have developed 45 properties in seven states consisting of over 4,500 units.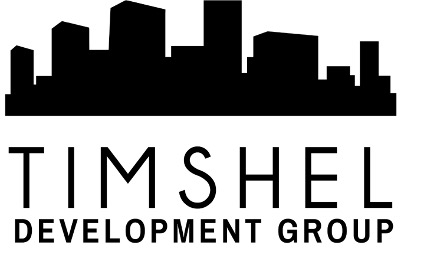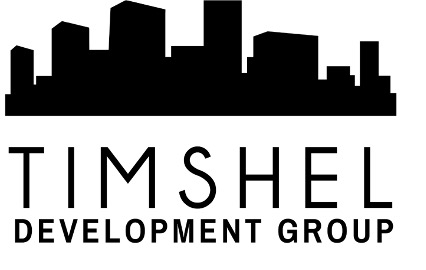 Formed in 2017 by Todd Wind and Brian Waterfield, Timshel Development Group ("Timshel") serves families and seniors in Florida and Georgia who live on moderate or fixed incomes. Todd and Brian are able to leverage their extensive knowledge of LIHTC, Tax-Exempt Bonds, and other grants and subsidies from federal, state, and local municipalities to secure financing for projects and to provide safe, secure, and affordable housing to the tenants they serve. Todd and Brian have a combined 20 years of affordable housing experience.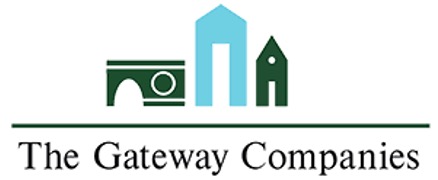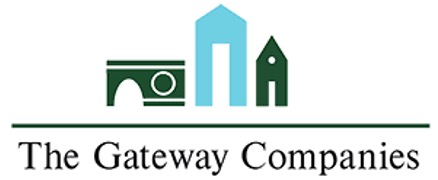 Gateway Development Corporation is part of The Gateway Companies and was formed for the purpose of developing and constructing multi-family apartment properties throughout the Southeastern United States. For over 30 years, Gateway has developed, owned and operated affordable, workforce, conventional and senior multifamily housing communities throughout the Southeast United States. Since formation, The Gateway Companies have developed more than 100 properties with over 7,000 housing units, across six states.


CRN Development, LLC is engaged in the business of investing in, owning, selling, developing, maintaining, managing, and operating real estate properties and developments. The company seeks opportunities to develop affordable and conventional multifamily projects to produce income and tax benefits. The company locates the property to be developed, coordinates with city and state officials and is responsible for submitting applications for financing for the projects, as well as finding partners and syndicators for the projects.