The Kimpton Cottonwood Hotel and Kinley Hotel offer revitalization and opportunity
Monarch Private Capital, a leading tax credit equity and ESG investment firm, is pleased to announce the closing of historic rehabilitation tax credit equity investment (HTC) in two iconic hotels in Omaha, Nebraska, and Cincinnati, Ohio. The rehabilitation of these properties will preserve the unique history of the buildings while also providing new resources and opportunities for the local communities and their residents.
The projects include the 75-million-dollar transformation of the historic Blackstone Hotel in Omaha's Blackstone District and the 26-million-dollar rehabilitation of the Denton Building, also known as the old Jeweler's Exchange Building, in downtown Cincinnati. Both built in 1915, the original architecture of each has been preserved to pay homage to the integral historic fabric of the two cities. In partnership with Clarity Development and GreenSlate Development, the Blackstone Hotel has been rehabilitated into the Kimpton Cottonwood Hotel. Now boasting 205 rooms, the full-service boutique hotel features two restaurants, a lounge, meeting space, an outdoor pool and more.
The original Blackstone Hotel featured multiple award-winning restaurants, rooftop gardens and a fleet of limousines in its prime. Considered the birthplace of the Reuben sandwich, the remarkably popular establishment successfully operated as a luxury hotel for nearly 60 years. The hotel hosted an array of high-profile visitors and was the location from which President Richard Nixon announced his campaign for the 1968 United States presidency.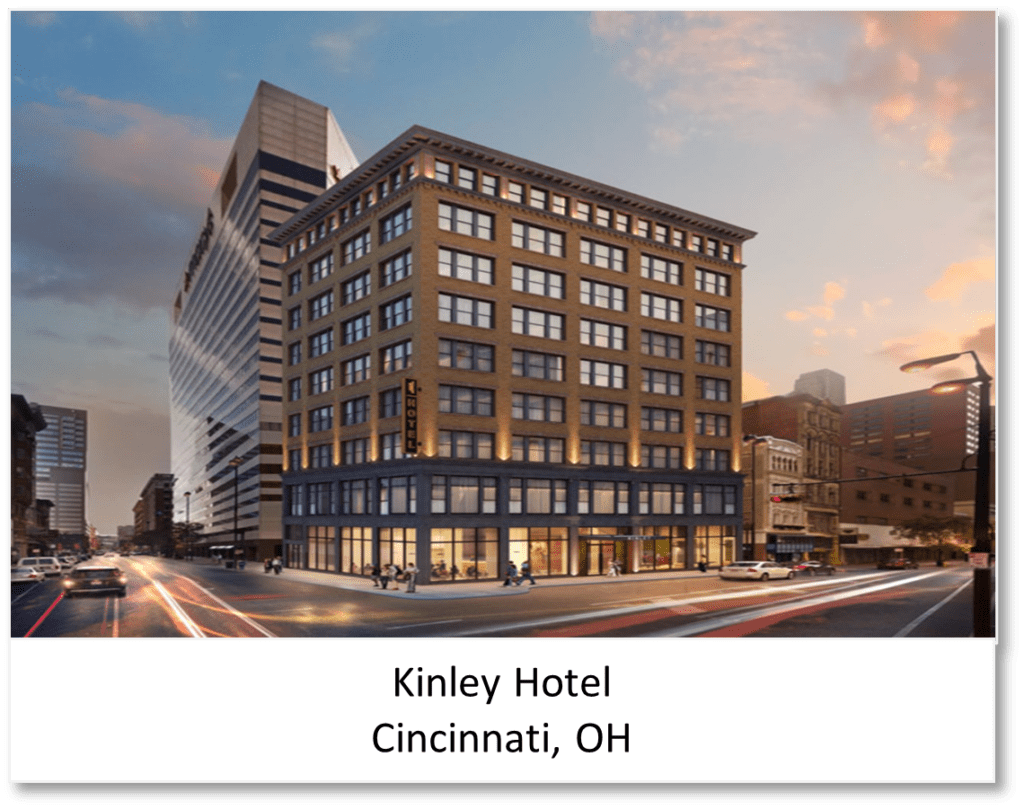 Monarch collaborated with Vision Hospitality Group to transform the Denton Building into the Kinley Hotel as a part of the Marriot Tribute Portfolio. The Kinley Hotel offers 94 rooms and a restaurant and coffee bar on the first floor. The property is located immediately adjacent to Macy's corporate headquarters and close to the Great American Ball Park, home of the Cincinnati Reds, and the Paul Brown Stadium, home of the Cincinnati Bengals.
The Denton Building, located in Cincinnati's Race Street Historic District, was originally built to satisfy the growing need for professional office space in the area. From 1877 to 1951, the district served as a major retail spot of downtown, boasting a number of offices, shops and theaters.
"We are excited to be moving forward with these two properties despite the challenges the hospitality industry is currently facing in regard to the global health pandemic," said Rick Chukas, Managing Director of Federal Historic Tax Credits for Monarch Private Capital. "We're confident that the knowledge and expertise of our partners along with our equity capital can help foster a bright and prosperous future for the Kimpton Cottonwood and Kinley Hotels along with the local communities and economies in which they serve."
Monarch Private Capital is actively pursuing new and exciting investment opportunities for its federal and state historic preservation funds. Please contact Rick Chukas by emailing rchukas@monarchprivate.com to discuss capital opportunities your federal or state historic tax credit projects.
About Monarch Private Capital
Monarch Private Capital manages ESG funds that positively impact communities by creating clean power, jobs, and homes. The funds provide predictable returns through the generation of federal and state tax credits. The Company offers innovative tax credit equity investments for affordable housing, historic rehabilitations, renewable energy, film, and other qualified projects. Monarch Private Capital has long-term relationships with institutional and individual investors, developers, and lenders that participate in these types of federal and state programs. Headquartered in Atlanta, Monarch has offices and tax credit professionals located throughout the U.S.
About Clarity Development Group
By leveraging their unique expertise and nearly 30 years combined experience in residential real estate, Clarity Development relieves clients of the burdens of complex and often nuanced legal, engineering, construction and finance issues. They have designed, permitted, and built residential developments ranging from urban to suburban, historic rehabilitation to ground up new construction–using a combination of traditional financing and multiple layers of subsidies and incentives.
About GreenSlate Development
GreenSlate is responsible for developing and managing Omaha, Nebraska's Blackstone District – a diverse, multi-use community where people can live, work and play. Located at the center of Midtown, the Blackstone District is designed with modern living in mind. Stretching from 42nd to 35th Streets, with only a short walk to a variety of businesses and entertainment.
About Vision Hospitality Group
A family-owned and -operated company, Vision Hospitality Group owns and manages premium select- and full-service hotels affiliated with the Hilton, Marriott and InterContinental brands. Founded in 1997 in Chattanooga, Tennessee, they promote a culture founded on core values–their Vision Values–so as to provide the finest experience for their guests and ongoing efforts of social responsibility to their properties' communities. The result is a team that shares a common vision and abides by a culture that further inspires one another, setting the company apart in today's competitive hospitality market.
The history and rehabilitation of the St. John's Seminary
For nearly two decades, San Antonio's housing costs have increased faster than the household Area Median Income (AMI), according to San Antonio's Housing Policy Framework. As a result, tens of thousands of San Antonio's households find themselves spending too much of their income on housing costs. Historic Tax Credits (HTC) are imperative to filling financial gaps, and to restoring and revitalizing communities. With the looming housing crisis, acting as a catalyst for the economic and social advancement of the area.
A Brief History
The land of the St. John's Seminary was the original site of Mission Concepción. Here, various indigenous tribes were invited to come live within the safety of the mission walls, growing in their faith and established farming communities. Over time, the walls began to crumble, and their stones were used to build homes outside of the compound, forming a new neighborhood around the old mission. After much turnover, an orphanage was established in 1929 as well as the new seminary, St. John's. The St. John's property continued for a while as a pre-seminary boarding high school for boys, but that came to an end in 1970. In the following year, a substance abuse program called the Patrician Movement, inhabited the campus until June of 2011, at which time it was abandoned. In 2019, the property was rehabilitated into The St. John Apartments, a Class-A apartment community, providing San Antonio residents affordable housing and valuable resources.
When the property was vacated in 2011, it became a hotbed of crime and vandalism. The homeless would sleep in the buildings or use them to shelter from the cold, and the grounds were littered with food scraps and empty bottles. After several small fires were set, it became clear that action needed to be taken in restoring and preserving the history and structural integrity of such a significant landmark.
Monarch Private Capital joined forces with Mission DG to help alleviate some of the financial burden in the San Antonio community and also preserve its history by rehabilitating the St. John's Seminary into quality housing, reserving 75 percent of its units for cost-burdened households.
About the Rehabilitation
Because the history of the site and building needed to be preserved, the renovation of the development wasn't easy. An archaeological team had to be on-site every day to make sure no important historic artifacts were uncovered while digging. This, along with a few significant features of the building that needed to be carefully preserved, required great expertise and attention to detail.
The rehabilitation of St. John's Seminary called for the redevelopment of three historic structures and the construction of seven new apartment buildings, resulting in a total of 228 well-developed apartment units. The old chapel was also renovated for the use of the Catholic church and new amenities and common areas were added. The historic buildings contain 40 housing units and five of the seven new structures house 188 units. One and two-bedroom floor plans are available, each equipped with full kitchens, balconies or patios and in-unit washers and dryers. Residents of the new St. John Apartments can also enjoy a playground, dog park, pool, fitness center and even a game room. The church also has a support center, offices and a coffee shop.
Awards and Recognition
In 2019, The Power of Preservation PROMenade event awarded Mission DG with the 2019 People's Choice award for the redevelopment of St. John's Seminary, celebrating the achievements of the company and their visions for the reuse and revitalization of San Antonio's historic buildings and neighborhoods.
In 2020, The St John was announced as the winner of the Best Affordable Multifamily Residential Development Award from the San Antonio Business Journal, recognizing the impressive project and honoring Mission DG for bringing it to fruition.
Final Thought
From missionaries seeking to share the teachings of their faith to students on a quest to expand their knowledge, St. John's Seminary has supported the progress and evolution of humanity in a lot of unique ways. Thanks to the HTC, this project brings a number of opportunities to San Antonio residents, including new jobs and a clean, safe and affordable environment to not just live but thrive in.
About the Developer
Mission DG is one of San Antonio's premier real estate development firms, specializing in complex historic, adaptive reuse, urban infill, and multifamily housing projects. The company has a portfolio of over 2,600 residential units either completed or under construction in San Antonio and surrounding areas. Mission DG currently has 6 projects in development and $345 million invested in Texas Communities.
Promotes Sustainability through Reuse of Historically Significant Buildings
Monarch Private Capital (MPC), a leading tax credit equity and ESG investment firm, is pleased to announce the closing of Monarch Federal Historic Preservation Fund I (Fund I). The $21 million fund provides investment in historic rehabilitation projects that will generate single-year federal historic tax credits in 2020 and 2021. In addition to preserving historically significant properties, the investments in these properties promote sustainability, revitalize neighborhoods, and encourage economic growth within the local communities.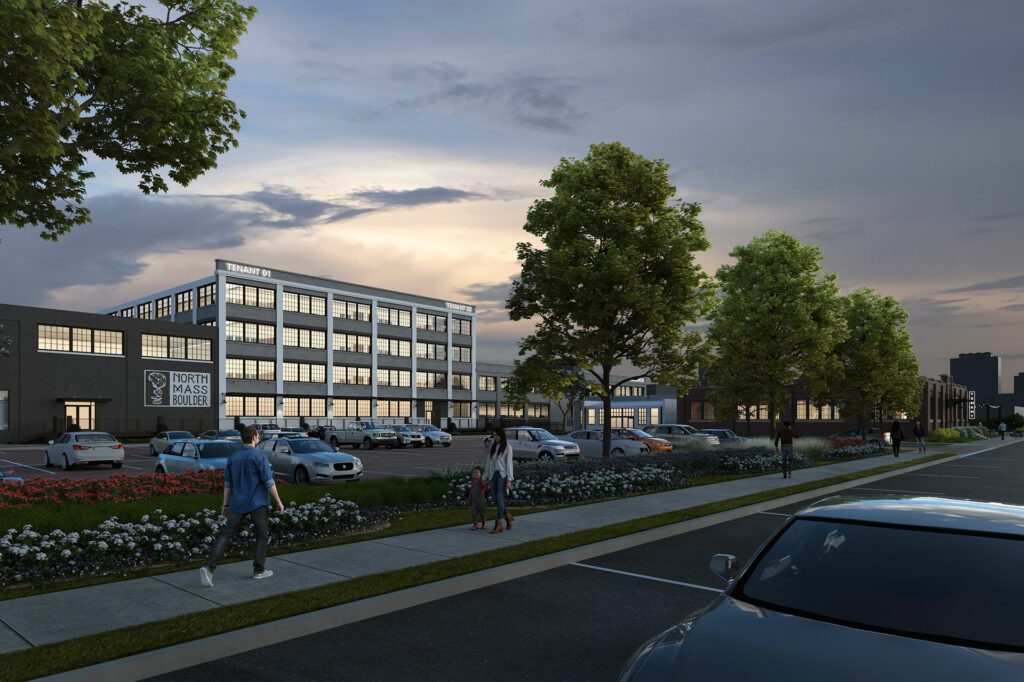 Investors in Fund I are financial institutions interested in community development and economic returns while also managing their effective tax rate. Fund I, the first of several planned funds, targets properties that generate federal historic tax credits of $1 million – $5 million and that qualify for single-year credits. The footprint of the fund is largely Midwestern and Southeastern regions of the United States with a diversified mix of assets.
ONB Community Equity LLC, a wholly-owned subsidiary of Old National Bank (ONB), is the lead investor in Fund I. Fund I called on ONB's tax credit group's relationships and experience within the marketplace to secure many of the historic tax credit projects that comprise the fund's investments. Both MPC and ONB recognize the value of historic tax credit equity to preserve historic buildings.
"The creation of Fund I was an effort to bring new life to under-utilized and vacant properties," said Rick Chukas, Managing Director of Federal Historic Tax Credits. "We appreciate the commitment of our investor partners who came together to invest in reshaping our communities."
For more information on MPC's programs and services, please contact Rick Chukas by emailing rchukas@monarchprivate.com.
About Monarch Private Capital
Monarch Private Capital positively impacts communities by investing in tax credit supported industries. The company is a nationally recognized tax equity investor providing innovative capital solutions for affordable housing, historic rehabilitations, renewable energy, film, and other qualified projects. Monarch has long term relationships with institutional and individual investors, developers, and lenders that participate in these types of federal and state programs. Investors look to Monarch to create, operate, and manage a variety of different funds, including investment opportunities that address ESG initiatives that provide a quantifiable impact. Headquartered in Atlanta, Monarch has offices and tax credit professionals located throughout the U.S.
About Old National Bank
Old National Bancorp (NASDAQ:ONB) is the holding company of Old National Bank. Headquartered in Evansville with $20.7 billion in assets, it is a top 100 U.S. bank, the largest Indiana-based bank and has been recognized as a World's Most Ethical Company by the Ethisphere Institute for nine consecutive years. Since 1834, Old National has been a community bank committed to building long-term, highly valued relationships with clients. With locations in Indiana, Kentucky, Michigan, Minnesota, and Wisconsin, Old National provides retail and commercial banking services along with comprehensive wealth management, investment and capital markets services. For information and financial data, please visit Investor Relations at oldnational.com.
Monarch Private Capital partnered with Gold Coast Housing, LLC to rehabilitate the Kahl Mansion located in Davenport, Iowa, into The Gold Coast Apartments for seniors.
With the help of the Historic Tax Credit (HTC), the remarkable history of the property, as well as that of the Kahl family, was able to be preserved during the rehabilitation. Boasting much of the original, breathtaking architecture, the new development is still a landmark. In fact, it's listed on the National Register of Historic Places. The Gold Coast Apartments have fostered new opportunities within the community and continue to add to the ongoing growth of the area.
Located on a bluff overlooking the Mississippi River, the building now features 49 market-rate units from studios to 2+ bedrooms, now called The Gold Coast Apartments. Below the historic property is a lower-income neighborhood, and the new combination of incomes has helped advance the community when it otherwise may have been neglected.
"The development serves as an anchor to our neighborhood," said Chris Ales, owner and developer of Gold Coast Apartments. "The $19.5M adaptive reuse as independent living apartments for seniors employed over 50 individuals for over two years. And the addition of 49 luxury apartments in a previously blighted neighborhood continues to stimulate community revitalization through the City's street and sidewalk improvements and the ongoing private investment in the renovation of the majestic, historic homes throughout the Gold Coast Historic District."
Ales went on to recognize the character of the residents of The Gold Coast Apartments, highlighting how some are helping the neighborhood as they can during COVID-19. "We've had a pharmacist, who is a resident of ours, donate masks to our amazing and essential cleaning staff, and one of our residents is a seamstress who has sewn masks for tenants who could not find one." The staff are also going above and beyond, working with residents who may have trouble paying their rent as they wait for unemployment benefits. The Gold Coast Apartments as well as its residents provide a great impact on the community.
A Brief History
The Kahl Mansion was built in 1920 by Henry Kahl as his family home. It was designed in the Spanish Colonial Revival style by Davenport architect Arthur Ebeling. In 1954, Bishop Ralph Leo Hayes invited the Carmelite Sisters for the Aged and Infirm to the diocese, and in 1955, they turned the house into a 25-bed, dormitory-style retirement home called the Kahl Home for the Aged and Infirmed. Another addition in 1987 brought the total number of beds to 135. The original house provided living space for the sisters, offices, and guest rooms. The facility was bought by Gold Coast Housing LLC from the Carmelite System Inc. in February 2015 when they moved locations.
Community Impact
The Kahl family's philanthropic impact goes beyond their historic property. In 2003, Henry Kahl's daughter, Elizabeth Kahl Figgie, and her husband V.O. Figgie donated $13.25M to the Davenport Museum of Art, which is now the Figgie Art Museum. With this generous donation, the Figgie Art Museum moved to its new home on the banks of the Mississippi River. Located just over a mile from The Gold Coast Apartments, The Figgie Art Museum serves as an incredible resource to an area that had few before. By providing studio space, classes, lectures and workshops for local colleges and universities, schools were able to expand their humanities and education programs.
About the Rehabilitation
The Kahl Mansion is a breathtaking property with an incredibly rich history. The rehabilitation of the property into the Gold Coast Apartments was handled with expertise and care in order to not only preserve but rather accentuate that history.
Perhaps, the most eye-popping of the 49 units are the five apartments created in the 1980s "tower" addition. When built, these curved, wall-of-windows spaces were the common dining rooms for residents, one for each floor. In addition to the five rounded apartments in the 1987 tower addition, there are two, two-story apartments in the back. The two levels of these apartments are connected by new circular staircases. The main nursing home area, including the chapel, has 36 apartments ranging from studios to two-bedroom, two-bath units. The 49th unit is the property's carriage house. The rear portion of the chapel has been walled off as a fitness area with eight stained glass windows.
About the Developer
Gold Coast Housing, LLC was organized in September of 2013 with the purpose of redeveloping the Kahl Mansion. Developer Chris Ales has completed several projects of similar size and scope, including the adaptive reuse of the former Marycrest College campus, and the St. Katherine's Episcopal school, both in Davenport, as well as the Welch Hotel in Muscatine, Iowa and Hurst Hotel in Maquoketa, Iowa. These projects received awards from local, state and federal agencies, including the Iowa State Historic Preservation Commission and HUD. Having successfully completed $100M of similar developments and having over 30 years of experience as a CPA, including several years as a Senior Manager at Deloitte & Touche, Ales is uniquely qualified for these types of projects.
National Park Service, U.S. Department of the Interior, Technical Preservation Services
A Successful Federal/State Partnership Since 1976
The Federal Historic Preservation Tax Incentives Program, administered by the National Park Service in partnership with the State Historic Preservation Offices, is the nation's most effective program to promote historic preservation and community revitalization through historic rehabilitation. With over 45,000 completed projects since its enactment in 1976, the program has leveraged over $102.64 billion in private investment in the rehabilitation of historic properties—spurring the rehabilitation of historic structures of every period, size, style, and type in all 50 states, the District of Columbia, Puerto Rico, and the U.S. Virgin Islands.
The Historic Tax Credit is the largest Federal program specifically supporting historic preservation. It generates much needed jobs and economic activity, enhances property values in older communities, creates affordable housing, and augments revenue for Federal, state, and local governments, leveraging many times its cost in private expenditures on historic preservation. This widely-recognized program has been instrumental in preserving the historic buildings and places that give our cities, towns, Main Streets, and rural areas their special character and has attracted new private investment to communities small and large throughout the nation.
Monarch Private Capital is proud to play a role in the new future of St. John's Seminary… which was made possible by tax equity investments.
Novogradac article by Caroline Gallegos
St. John's Pre-seminary High School (St. John's Seminary) in San Antonio, Texas, is being rehabilitated thanks to historic tax credits (HTCs) and low-income housing tax credits (LIHTCs) and will become The St. John's Apartments.
The development will provide 228 apartments, 75 percent of which will be available to those who earn between 30 and 60 percent of the area median income (AMI).
St. John's Seminary was built in 1920 adjacent to Mission Concepción, which was designated a National Historic Landmark in 1970 and is now a part of the San Antonio Missions National Historical Park, which includes Mission Concepción, San José, San Juan and Espada. The park, along with the Alamo, was designated a UNESCO World Heritage Site in 2015.
"Being from San Antonio and participating in the transformation of the historic Catholic Seminary into St. John's Apartments has held special significance for me," said Robin Delmer, Monarch Private Capital's Co-CEO and managing director of acquisitions. "Not only are we preserving history, but also building attractive affordable housing that will stimulate growth and community in the area. Monarch Private Capital admires the dedication of so many involved bringing this initiative to fruition."
Expands Expertise with Hire of Industry Veteran and Internal Promotion
ATLANTA, February 3, 2020 — Monarch Private Capital (MPC), a nationally recognized tax-advantaged investment firm that develops, finances, and manages diversified portfolios of projects that generate federal and state tax credits, today announced the acquisition of additional resources to help support the continued growth in the Company's Historic Tax Credit Division.
During 2019, the Company was involved in over $450 million[1] of historic preservation transactions which resulted in the placement of over $90 million of historic tax credits, the creation of new local jobs, and the generation of economic benefits to a variety of communities throughout the US. MPC's Historic Tax Credit Division continues to experience steady growth and remains an integral part of the Company's future strategy.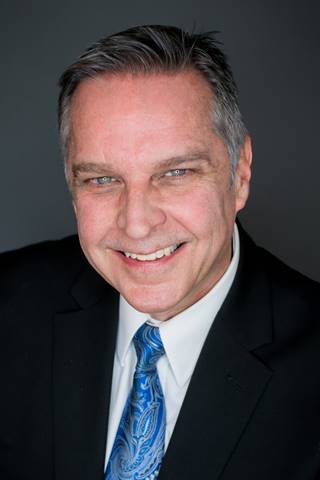 To continue to fuel growth, MPC has hired industry veteran, Blair Williams, to serve as the Director of Historic Tax Credit Acquisitions for the Company. Williams will be based out of Baltimore and provide additional reach into the Northeast. He has 20 years of business development and acquisitions experience working with real estate developers and sponsors involved in historic tax credits, low-income housing, and new markets tax credit transactions. Williams has closed transactions generating over $750 million in tax credits. He has served in a variety of capacities with several organizations prior to joining MPC.
"I'm excited to be a part of a company with a leading national tax credit platform that enables us to bring each piece of the capital stack together," said Williams. "I look forward to working with our partners on innovative investments to positively impact communities."
In addition, MPC announced the expansion of Matthew Bagwell's role at MPC as Director of Historic Tax Credits/Fund Management. In this new role, Bagwell will assist in the continued development of the Historic Tax Credit Division and serve as Fund Manager of multi-investor historic tax credit funds of the Company. Bagwell has been a part of the recent growth of the division, working closely with developers in various transactions to maximize the Company's investment fund returns. Over the past decade, Bagwell's work in the real estate industry has provided him with extensive knowledge in working with historic and affordable housing investments in the construction, the lease-up, and the pre-conversion stages. He has also managed relationships with industry professionals and large portfolios of real estate.
"We are excited to continue our growth and development of the Historic Tax Credit Division within MPC. As a tax credit equity source for historic rehabilitation projects, we want to continue to positively impact increasing numbers of communities throughout the US. To enable that growth means building a team comprised of the best expertise in the industry," said Rick Chukas, MPC's Managing Director of Federal Historic Tax Credits. "With the addition of Blair Williams and the expansion of Matt Bagwell's role, we will be able to further support our tax credit equity investments and fund investors."
For more information about MPC or available programs and services, please contact Rick Chukas at (615) 373-5155 or rchukas@monarchprivate.com. Additional information is also available by visiting www.monarchprivate.com.
About Monarch Private Capital
Monarch Private Capital positively impacts communities by investing in tax credit supported industries. The company is a nationally recognized tax equity investor providing innovative capital solutions for affordable housing, historic rehabilitations, renewable energy, film, and other qualified projects. Monarch has long term relationships with institutional and individual investors, developers, and lenders that participate in these types of federal and state programs. Investors look to Monarch to create, operate, and manage a variety of different funds, including investment opportunities that address ESG initiatives that provide a quantifiable impact. Headquartered in Atlanta, Monarch has offices and tax credit professionals located throughout the U.S.
---
[1] Rutgers, National Park Service, Annual Report on the Economic Impact of the Federal Historic Tax Credit for Fiscal Year 2018, HTC cost encourages a five times greater amount of historic rehabilitation, www.nps.gov/tps/tax-incentives/taxdocs/economic-impact-2018.pdf
Congratulations Hotel Retlaw for being featured in PREMIER HOSPITALITY INTERNATIONAL MAGAZINE! View the article here.
Hotel Trundle and architect, The Boudreaux Group, have been recognized with a national award for adaptive reuse and design. Hotel Trundle is located in Columbia, South Carolina.
The project, which renovated three buildings at the corner of Taylor and Sumter streets into a boutique hotel and new offices for Boudreaux, won the commercial project category in commercial real estate publication GlobeSt.com's 2019 Adapt Opportunity Zone awards.
The awards highlight companies which have demonstrated ingenuity, creative thinking and problem solving in rejuvenating underutilized buildings, according to a news release.
"It is exciting to be recognized among projects from larger cities like Atlanta, Seattle and Philadelphia," Heather Mitchell, Boudreaux president, said in the release. "This is just further evidence of the forward momentum in Columbia and, even more, the power of creativity and perseverance to reenergize the historic cores of downtowns across our state."
Read the full article here in the Columbia Regional Business Report.
Hotel Trundle is a boutique hotel that was transformed with the help of historic tax credits. Monarch Private Capital is proud to been a part of this innovative project which opened April, 2018!